Bushey Heath Farm is a beautiful smallholding situated just outside the pretty Peak District village of Tideswell. We have welcomed guests here for over 15 years and we take great pride in providing high quality, affordable accommodation with sustainability at the heart of everything we do.
---
Bushey Heath Farm Accommodation
Bunk Barns
Our traditional bunk barns have been converted from original Grade II listed farm buildings. They provide large group accommodation for up to 20 people with full-size single bunk beds.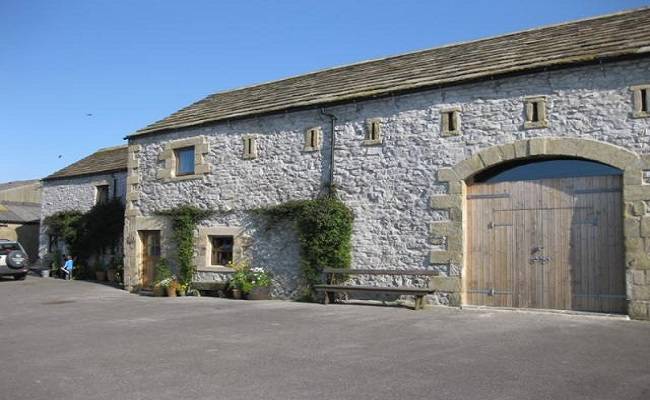 Our bunk barns make a perfect base for walking and climbing groups, or educational trips and Duke of Edinburgh Award groups. They are also ideal venues from which to run workshops, training courses or outdoor activities. We hold regular art- and craft-centred workshops here ourselves, including dry stone walling and hedge-laying.
Each bunk barn has radiator central heating, powered by our ground source heat pump, and full self-catering kitchens, kitted out with all the cutlery, crockery, pots, pans and utensils you could need. They have range cookers with extractor hoods, fridges, microwaves, toasters and kettles. Basic blankets and pillows are also provided, but you should bring your own sleeping bags/bedding and towels with you. Please note that the barns are intended for groups looking for a base, rather than holiday cottages. They do not have sofas, TVs or garden areas.
Marmaduke's Rest Bunk Barn
Marmaduke's Rest Bunk Barn is our largest bunk barn, sleeping up to 14 people in two downstairs rooms. Upstairs you will find an impressive open-plan kitchen/dining room with a timber vaulted ceiling and exposed beams. It is capable of seating groups of up to 20 people, perfect as a space for those who book both barns together. There are also two WCs and two showers.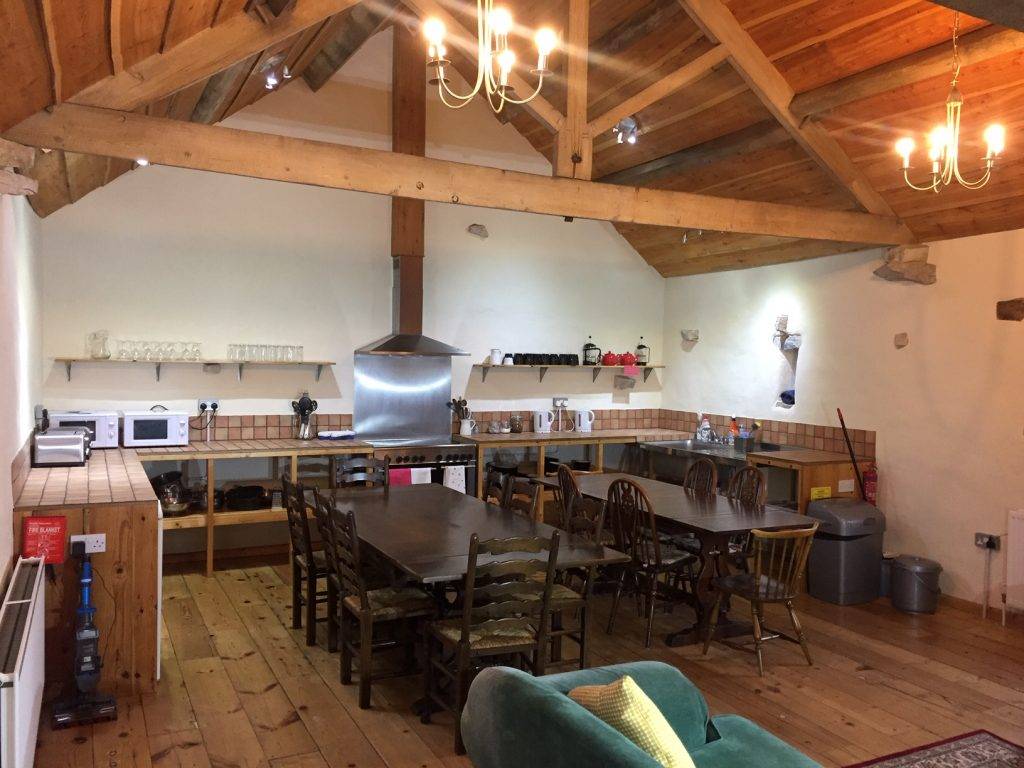 Little Barn Bunk Barn
The Little Barn Bunk Barn is perfect for families and smaller groups of up to 6 people. It has an open-plan kitchen/dining room, one large room with six bunks, a luxury shower room and two WCs.
Private Camping
We also have a summer campsite with 30 pitches available for individuals or groups to book either for their sole use or with other campers. The campsite and surrounding woods are quiet and peaceful. The space is ideal for both tents and small camper vans.
Booking your own campsite lets your children run around in safety and play games in an area occupied only by your family and friends. Just shut the gate for peace of mind.
The campsite is suitable for your four-legged friends as well, but please keep your dogs on a lead.
Please contact us if you have a group gathering or event that requires Peak District campsite accommodation – we'd love to discuss your booking! Please make sure that our campsite rules suit your group before booking. We don't have music on site and our space is ideal for those looking for quiet, basic accommodation in a peaceful countryside setting.
A unisex toilet /shower block with two rainwater-flushing WCs and two showers is available on site. Please note that the use of our showers is charged at £1 for 10 minutes. We have an outside sink for washing up but don't have a hot water tap, electric hook-up or electricity for shavers, hairdryers, chargers, etc.
Camping Huts
As well as tent pitches our campsite also boasts two purpose-built camping huts, providing dry, warm, secure campsite accommodation for up to 3 people – without the need for you to bring your tent!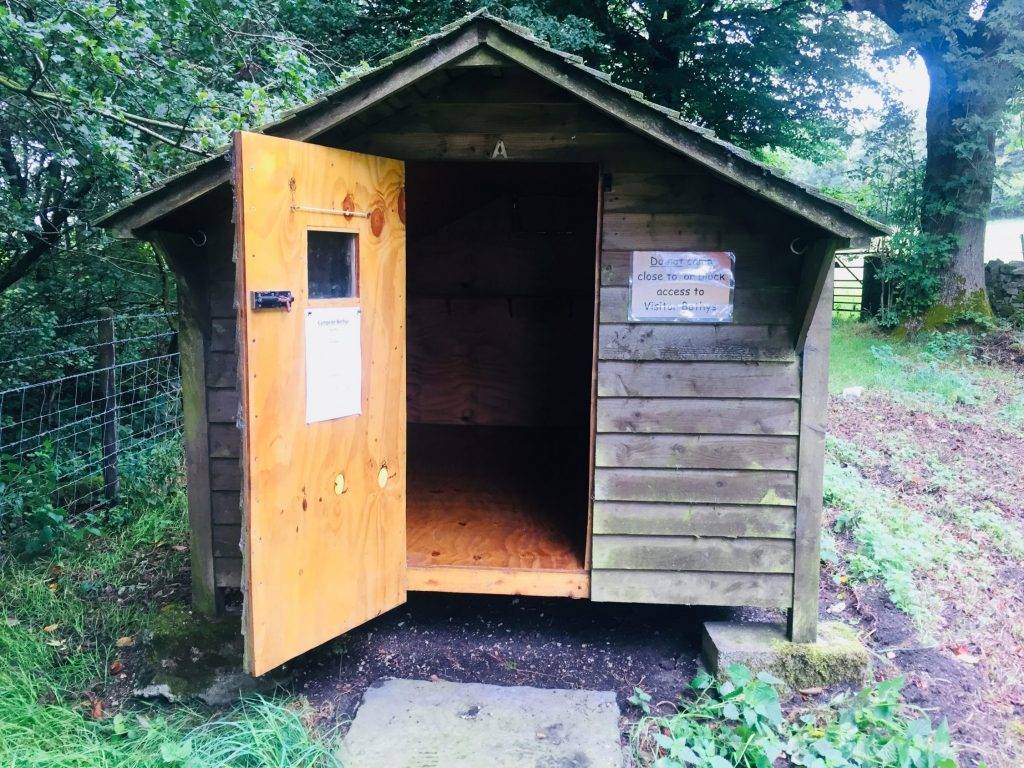 Each Camping Hut measures 8' x 6' inside and is just under 5' in height. They have natural light and an opening hatch for ventilation, as well as a long shelf to keep your belongings on. The Camping Huts are lockable for security and have a covered front area over the door for sheltered access and cooking.
Bushey Heath Farm Training Room
Our beautiful traditional barn, The Hayloft, has been converted into a purpose-built, large training room. It measures 28' x 18', has a stone floor, multiple sockets, varied lighting and is centrally heated. Five stackable tables and 25 stackable chairs are provided.
Please note that The Hayloft can be used from 9am to 9pm. It can be booked with or without a residential booking. Unfortunately its close proximity to the farmhouse and other guest accommodation means that it is not suitable as a venue for dining functions or parties.
---
Prices
Marmaduke's Rest Bunk Barn (sole use) – £1,560 per week for up to 14 people or £350 per night (minimum 2 night stay chargeable)
Little Barn Bunk Barn (sole use) – £660 per week for up to 6 people or £144 per night (minimum 2 night stay chargeable)
Individual camping – £8.50 per person/night (£2.50 per person/night aged 3-13 years)
Private campsite (sole use) – £300 per night minimum, up to 35 people
Camping Huts – £25 per night
The Hayloft – from £144 per day according to group type and use
---
Prices quoted are for private individuals.  Rates for corporate groups may differ – please contact us for more information.  We encourage use by local groups and environment- or community-based activities. 
Minimum 2 night stay (3 on Bank Holiday weekends) chargeable.
Please note that large groups who do not book sole use of the campsite may be sharing the site with other large groups.
Please note that a 20% deposit is required within 14 days of booking.
Please note that we require a £100 good use bond (destroyed on departure).
Click here for further information and for booking terms & conditions
---
Sustainability at Bushey Heath Farm
We love the beautiful Peak District countryside in which we live, and we have always aimed to develop Bushey Heath Farm in an environmentally-sensitive way. We have used recycled building materials as far as possible in the construction of our bunk barns, and a 6kw wind turbine produces all our electricity. A ground source heat pump provides the heating and hot water for our barns and we collect rainwater for the flushing of our WCs. We also encourage recycling throughout the site.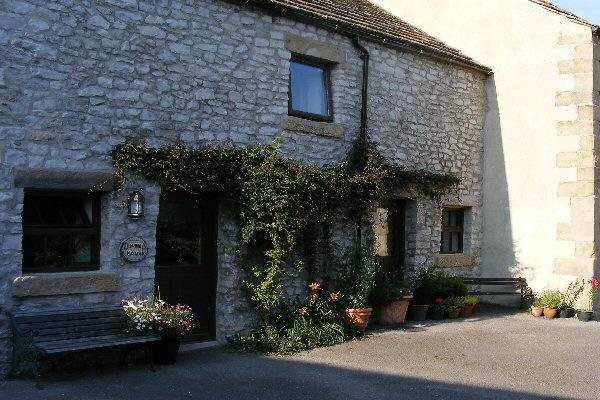 Bushey Heath Farm has received numerous awards and grants for the sustainable projects we have developed, including accolades from the Peak District Sustainable Development Fund, the Low Carbon Buildings Trust and the Ethical Tourism Awards.