If you're looking to disconnect from the pressures of 21st Century living and get back to basics, Dalehead Bunkhouse is the perfect place for you! This 20-sleeper bunkhouse is completely off the beaten track; its isolated location, deep in the Edale Valley, means there are no public roads leading to it. A narrow track leads you to this peaceful hideaway, where you're surrounded only by working farmland, grazing sheep and a tumbling stream at the bottom of the garden.
---
Dalehead Bunkhouse Accommodation
Dalehead Bunkhouse offers plenty of space to relax. It's an ideal venue for a group of adventurers wanting to explore this stunning part of the Peak District, or for a group of friends/family wanting to catch up in peaceful surroundings.
Here you'll find comfortable, warm accommodation with many original features, including rustic exposed beams and low doorways. On the ground floor you'll find a large living room with three sofas, plus a cosy log burner. There's even a payphone for when your phone signal drops out.
There's a well-equipped kitchen and dining room with two large tables, including seating for 20 people.
Dalehead Bunkhouse has three bedrooms on the first floor – one sleeping up to 8 people in bunkbeds, one sleeping up to 6 people in bunkbeds, and one sleeping up to 6 people in single beds. Please note that the bedroom with six single beds has very low beams, and as such has a dimly-lit emergency light that is always turned on. Mattress protectors are provided for all beds, but please bring your own bed linen and towels.
There is also a communal shower room downstairs, with two showers and two toilets, and the same again upstairs.
Dalehead Bunkhouse is heated by radiators and has a log-burning stove in the living room, Wood will be included for the fire during your stay.
Dogs are welcome at this property for a nominal charge of £15 per dog.
There is a small garden at the back of the property. It is not enclosed, is open to a stream and countryside.
There is parking for approximately 8 cars nearby, 20 metres from the bunkhouse.
---
Dalehead Bunkhouse Location
The location of Dalehead Bunkhouse is the real star of the show. The Edale Valley is a beautiful, deep valley, surrounded by a ring of soaring gritstone hills and open heather moorland.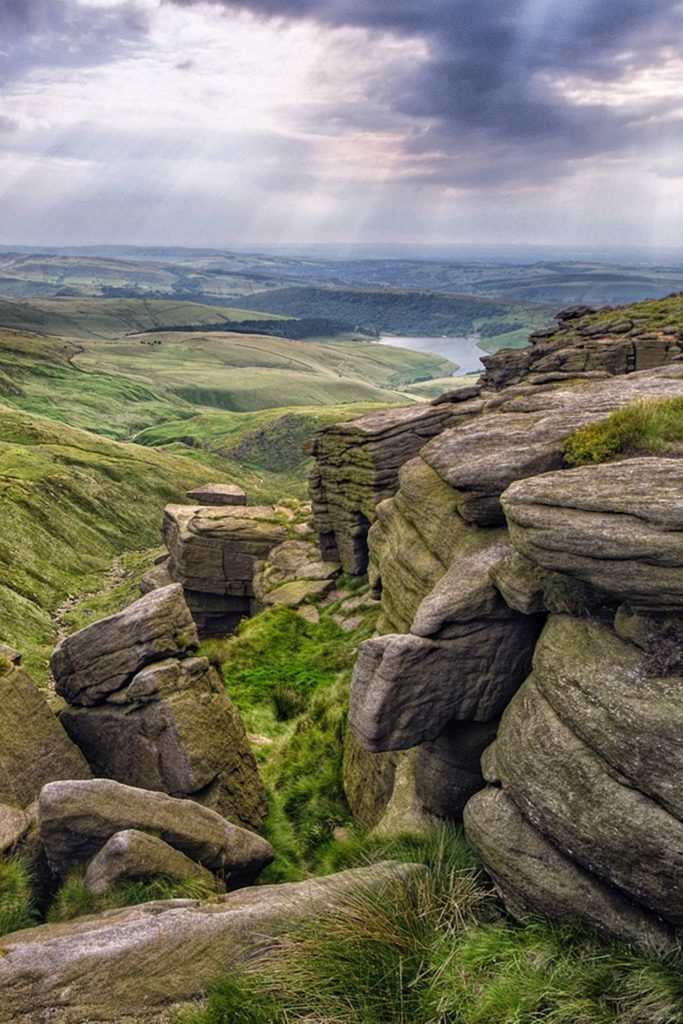 This is perfect walking and cycling territory. From the bunkhouse you can hike up to Mam Tor, from where you can enjoy awe-inspiring 360-degree views of the entire area. Or in the opposite direction you can walk to the heights of Kinder Scout, the highest point in the Peak District at 2,087 feet high. Walking there from Dalehead Bunkhouse takes you through a wide variety of landscapes and perfectly illustrates the diversity of the Peak District.
If you're yearning for a little civilisation, the village of Edale is only a few miles away, and is a characterful little place. It has two great pubs and a number of cafes, as well as a visitor information centre and a small village shop. Only slightly further afield, the pretty village of Castleton has plenty to occupy visitors, with a ruined castle and no less than four impressive show caverns, as well as a wealth of independent shops, cafes, restaurants, and pubs. The elegant spa town of Buxton is also within easy driving distance, well known for its impressive Opera House and beautiful Georgian and Victorian architecture.
---
Notes for Guests
PLEASE NOTE! This is true rural accommodation. The route to Dalehead Bunkhouse is unlit, slightly uphill and uneven. Due to the limited access route up a rural track, the access is not suitable for any vehicle larger than a 15-seater minibus. The bunkhouse is close to a working farm, and there are cattle/sheep grazing nearby. Your dogs must be under control at all times around livestock. There are some low doorways and low beams throughout the bunkhouse.
There are neighbours nearby, so we respectfully ask that you keep noise to a minimum after 11pm.
We may accept well behaved hen and stag groups at this bunkhouse but we would like to discuss your groups needs first. If this applies to your group please call our contact centre on 0344 335 1296 so that they can understand your group's needs.
---
Contact Dalehead Bunkhouse
For more information, to check availability or to make a booking, please contact the friendly team at Dalehead Bunkhouse – they'll be delighted to help you.