Peak District Design is a small friendly gallery displaying Si Homfray's thoughtful, contemporary and colourful artworks. The shop offers various ranges of design led quality giftware, soft furnishings and ceramics.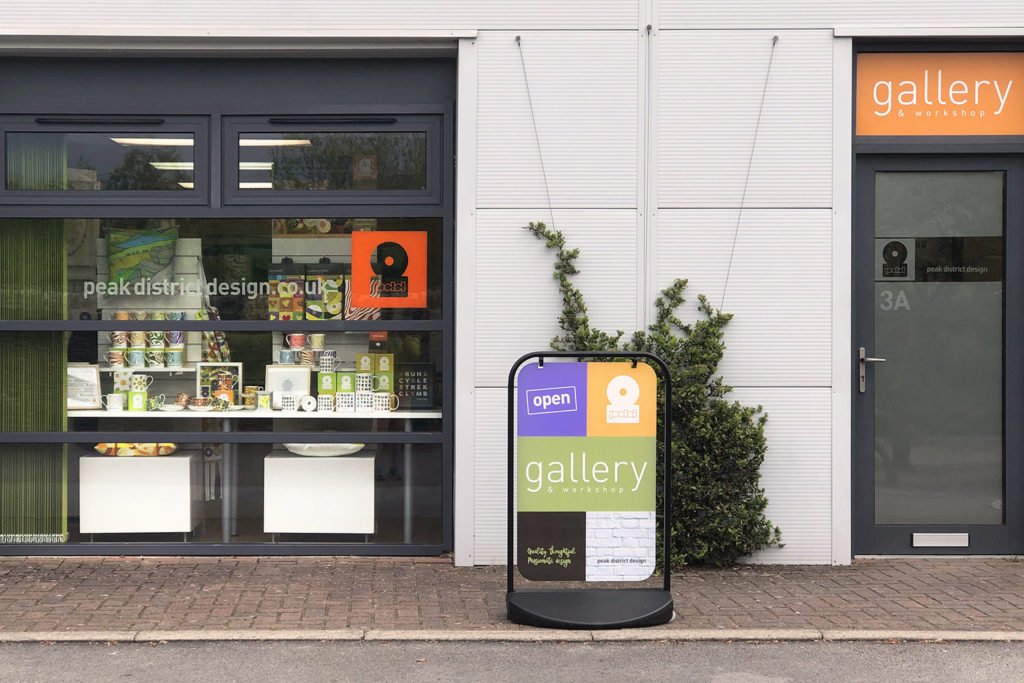 The business Peak District Design and Si Homfray the individual are focused on quality products, sustainable local manufacturing and strong ideas that resonate with customers.
Inspiration

Peak District Design was set up, after a lifetime living in the Peak District, as an outlet for Si Homfray's artistic expressions of the National Park. His many travels and varied physical activities in the Park combined with a curiosity to find new ways of presenting and sharing information are leading to themes around wellbeing and the natural world and how our immersion works effectively to create personal growth and inner calm.
Peak District Design Detailed Process

Peak District Design Si Homfray is driven by the need to constantly improve while ensuring accuracy and detail are correct. His work often starts with long lists of everything encountered, such as wildlife, flowers, leaves or local villages, and these indexes become the basis for pattern, and textures used in larger more literal representations, often displaying many levels of complexity, rhythm and colour.
Actively seeking conversations with gallery visitors, seizing every opportunity to listen, is helping ensure that the product development process stays relevant and fresh.

The few designs that make it from paper patterns, visuals and mock ups are then used for product manufacture.
Exploration

Si is constantly questioning and looking at the detail of everything. Sketching, noting and storing patterns with librarian passion every day, he organizes and files project material for the future tirelessly, knowing that when the right questions are asked and the ideas tie together material can be more easily accessed and the work will hopefully yield something fresh from the energy of a new project.
Using this detailed process and being able to quickly liberate strong source material for design expansions, Si is planning on a long life to come exploring greater expressions on wellbeing and the timeless themes of nature, the outdoors and our relationships with it.
Peak District Design Background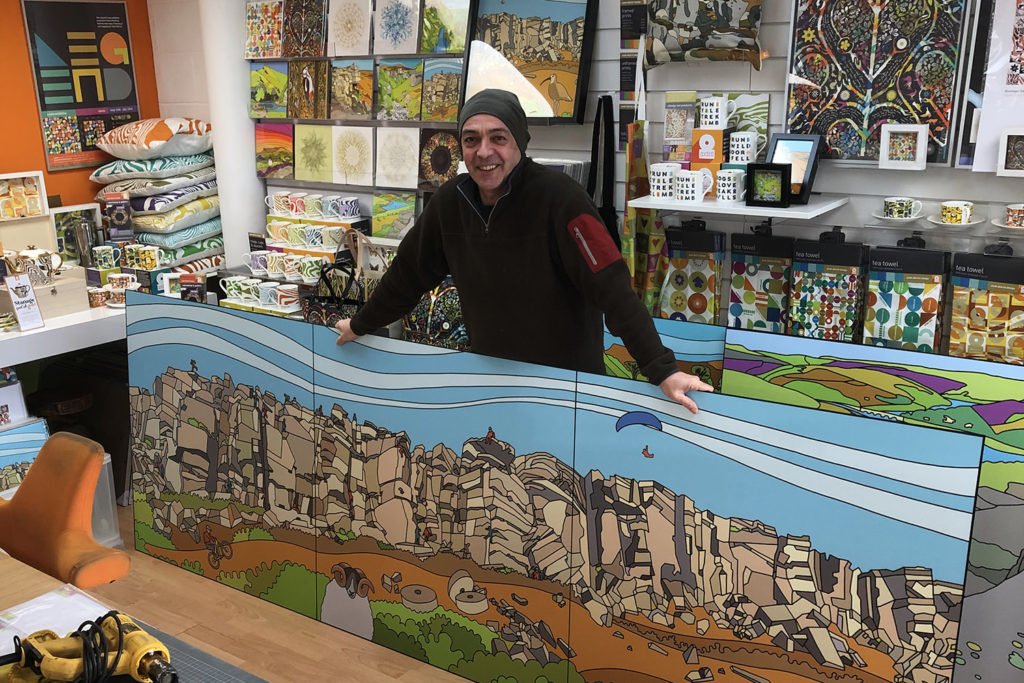 A life changing event

On 15 May 2012 Si was involved in motorbike accident. He was catapulted over a car and down a ditch at 50mph and incredibly survived.
After a while in hospital, having banged his head, and broken nearly every bone to some degree or the other, there followed some facial surgery and eight months of rehabilitation.
Despite these injuries, and an initial lack of mobility, the principle emotion he had at the time was a sense of relief that he could now change his life.
Travel and rehabilitation

For rehabilitation, Si planned and underwent a solo adventure that involved him running 3,500 miles from the UK, across France and Italy, through the Balkans and on to Turkey.
"Being away on my own for the best part of two years was very important, an artistic as well as a physical endeavour. It gave me time and space to decide on a new vocation".
Si left the UK in early 2013 and arrived back in Hathersage towards the end of 2014, where he started on the final venture for the rest of his life, and launched Peak District Design in 2016.
Peak District Design Shop
Peak District Design full shop is here – a selection of products to buy below!
Legacy
Si Homfray loves balance, playing in and exploring our great outdoor spaces. All he wants to do now is design, write and develop products which promote these parks and areas and ultimately encourage the generations to care for and enjoy them. He believes younger people are not getting enough experience of the outdoors. As he grew up mucking about in the countryside and playing around cycling, running and climbing, he feels many youngsters don't get that now – especially in the cities.
Inspirational Words from Si of Peak District Design
"I truly relish this artistic liberation and I think that finally after 35 years I no longer need to ask the question about success and money. If you're passionate about what you do you will always find a way achieve your goal, no matter how long it takes."
"I have been incredibly lucky to have the chance to re-start my life. The crash could have killed me or left me totally incapacitated, but I survived and I am making the most of every day and appreciating the beauty of this amazing place I am proud to call home."
"I have so many ideas that I do need to keep myself in check.."
"Sometimes you just have to stop and look around you with fresh eyes. Find the detail in the simplest of things, the head of a flower, the pattern of the fields, the sound of the birds."
"Today, Si is at his happiest, both in terms of his work and his life, which he no longer needs to separate — he loves his work and, therefore, his life."
"One way of looking at my relationship with the Peak District is that I am married to it. At least it feels a bit like that."
"My products are inspired by my renewed love of design – and totally inspired by the special places around the Peak District. As an artist, I'm trying to say 'look at this amazing, beautiful place – if you can build it into your life, you'll have a better life'."
"Everything features Si's striking and confident designs that reflect his passion and love for the Peak District, and they also incorporate subtle and more obvious messages about how we need to keep every aspect of life in balance."
"Finding what you love, doing what you love in a place you love seems to be a rare thing. And as an older, hopefully wiser and certainly humbler, person I am so grateful for the opportunity to live here, exploring the great natural patterns of nature, the footpaths that lead to new adventures. Every discovery, however small, is a lift."
"I finally realised that I had always wanted to be an artist, but during my formative years I was repeatedly told that you can't survive as an artist, that there's no money it is, so it is a relief to discover otherwise."
"I am married to the National Park, no doubt about it, and want to share the wonders of the great open spaces and sublime beauty of everything Peak District."
"The crash could have killed me or left me totally incapacitated, but I did survive and I am making the most of every day and appreciating the beauty of this amazing place I am proud to call home."
"I'd say that many British people are struggling with the demands of modern life – they're stressed and spending more than they earn. I think a lot of people are hiding their problems and need some space to see the reality and find some balance. One of the greatest things we get from fresh air and open space is clarity – the ability to be honest with yourself about what you want and actually need."
Contact Peak District Design
For further information don't hesitate to contact Si at Peak District Design – he'll be delighted to help you.

Peak District Design – Gallery