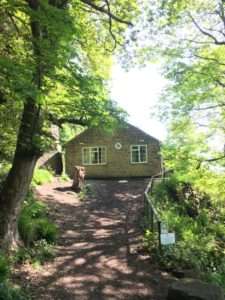 Shining Cliff Hostel is delighted to provide high quality accommodation for groups of up to 20 people, in the most stunning, secluded woodland location. This beautiful property is nestled right into the base of Shining Cliff, a low gritstone rock face, which gives both the Hostel and the surrounding woodlands their name.
Set on the edge of the Peak District National Park alongside the River Derwent, it's the ideal place for family or group get-togethers, school groups or youth groups, as well as those just seeking to reconnect with nature in a peaceful environment far removed from the stresses of modern life.
---
Accommodation at Shining Cliff Hostel
Shining Cliff Hostel provides accommodation for up to 20 people in five bedrooms, all with clean, comfortable bunk beds. Each bedroom is named after one of the climbing routes on the crag outside: The Bat House and Holly Days each sleep 6 people, Gecko Blaster sleeps 4, Pillar Chimney and The Far Side each sleep 2.
Guests should bring a sleeping bag (although two duvets are available on request for those without sleeping bags) and towels. Bed sheets, pillows and pillowcases are provided.
There is a well-equipped self-catering kitchen, complete with fridge, freezer, dishwasher, range-style electric double oven and six-ring gas hob, microwave and hot water boiler.
There is a dining area with seating for up to 20 people, and a large lounge area.
There are three bathrooms, each with a sink, shower and modern composting toilet. Solar panels top up the hot water supply.
Outside the Hostel is a peaceful area set with picnic benches, affording stunning views over the surrounding landscape. There is also a fire pit within the grounds, and there are crags and streams to explore within the woodland.
Shining Cliff Hostel is dog-friendly too! Well-behaved dogs are welcome by prior arrangement – there's even a dog bowl and blanket here waiting just for them!
---
Booking Shining Cliff Hostel
Shining Cliff Hostel is available for individuals to book a bed, at least 1 week in advance. Weekends are for sole bookings only, except during 'Book a Bed' events during school holidays.
The Hostel is also available to book by the day, and it makes a perfect venue for schools, courses, youth groups, etc. There is also a Woodland Classroom on site, available to hire by the day.
---
Shining Cliff Hostel Location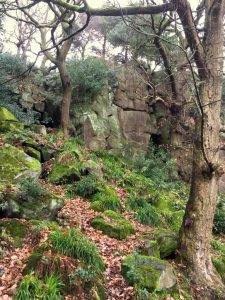 The beautiful Shining Cliff Woods are located close to the pretty town of Ambergate in Derbyshire on the edge of the Peak District National Park. The woodland includes a designated Site of Special Scientific Interest (SSSI).
Shining Cliff Hostel is surrounded by this historic medieval woodland and lies alongside the Derwent Valley World Heritage Site. The area is very peaceful and secluded; the Hostel can only be accessed by a woodland footpath half a mile from the car parking area. This means that you can enjoy a true get-away-from-it-all experience!
Long Distance footpaths such as the Derwent Valley Heritage Way and the Midshires Way are easily accessed from the Hostel.
The ancient woodland around Shining Cliff Hostel is situated above the River Derwent. Although predominantly made up of oak, the woodland also contains birch, rowan, hazel and holly trees, as well as sweet chestnut, larch and Scots pine. The acid-rich soil means that a wide variety of plants grow on the woodland floor, including bilberry, bluebells, wavy hair grass, wood millet, bracken and honeysuckle. There are also species of sphagnum moss, fern and sedge growing in areas where streams flow and springs emerge, as well as lichen and fungi.
Shining Cliff Woods are home to many species of birds, including pied flycatchers, wood warblers and flocks of brambling in the winter. It is also a vital habitat for many species of mammals and invertebrates.
---
The History of Shining Cliff Hostel
Shining Cliff Hostel was originally run by the Youth Hostel Association. It was taken over by the Lindley Educational Trust in 2009, who refurbished the centre and used it for environmental activities.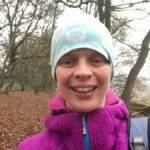 In 2019 it was taken over again, this time by the Shining Cliff Centre Ltd. Their aim is to keep this iconic and popular hostel open for all those who love it and return year after year to its magical location.
The Shining Cliff Centre Ltd is run by Kate Tuck. A registered nurse with a background in outdoor education, Kate is passionate about ensuring that people of all ages can experience and enjoy this wonderful Hostel in its stunning setting.
---
Contact Shining Cliff Hostel