Wickers World has over 25 years of experience of providing hot air balloon flights throughout Derbyshire and the Peak District, giving you not just a totally different perspective on this beautiful landscape, but also memories that will last a lifetime.
---
About Wickers World
The Peak District is one of the most perfect areas in the whole country to soar over. With its pretty villages, rolling green hills and deep valleys, it's amazing countryside to look down upon. And hot air ballooning is the perfect way to see it – gracefully gliding almost silently above the stunning scenery.
It's no wonder that Wickers World hot air balloon flights in this area are often carried out by the company director; he saves the very best flights for himself!
"One of the perks of being the boss is having some influence over the pilot schedules! Ballooning in Derbyshire is a unique experience thanks to its rolling landscape, and I am lucky enough to look down on this amazing countryside all through the seasons."
---
Wickers World launch sites
Wickers World has three launch sites in the Peak District:
Rowsley, near Chatsworth House, between Bakewell & Matlock
Tissington Hall, near Ashbourne
Harpur Hill, just south of Buxton
The venue they fly from is always determined by the wind direction, and deciding which launch site will give the best flight on that particular day. Balloons cannot be steered! They simply float along with the breeze, and go wherever the wind takes them. This is one of the great attractions of going on a balloon flight; every trip is a unique adventure – for the pilot as well as the passengers!
Rowsley & Chatsworth
Just south of Chatsworth House lies the village of Rowsley, where Wickers World balloons take off from a beautiful private venue right next to the River Derwent.
Balloon flights from here may take you along the Derwent Valley and over Darley Dale and Matlock to the south. To the north you will see Chatsworth, where Wickers World balloons have often landed, with Bakewell visible to the north west.
Rising to maybe two or three thousand feet, you can really appreciate the scale of the Peak District! The massive wind turbines at Brassington look tiny, and even Carsington Water seems like a pond.
Not far to the west of Carsington Water lies the picturesque village of Tissington, another fantastic launch site for your hot air balloon ride…..
Tissington Village, near Ashbourne
Located a few miles north of Ashbourne, Tissington Hall is home to Sir Richard Fitzherbert. Wickers World balloon rides start from Sir Richard's land at the edge of this picturesque village, close to Dovedale and Ilam.
Tissington Village is an attraction in itself, with its timeless beauty, wonderful Hall, church, 'Herberts' tea rooms, duck pond and a small number of high quality independent shops. This is one of the most picturesque places in the whole of Derbyshire!
Close to Tissington village you will find many famous local attractions. Just to the west lies the dramatic scenery of Dovedale, a deep gorge through which the River Dove has carved its route, and along which millions of walkers have trodden a path. You can climb Thorpe Cloud for some great views of this landscape – but not as good as you'll see on your hot air balloon ride!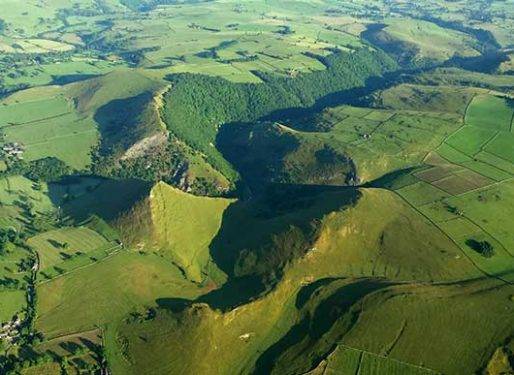 Clover Fields Caravan Park, south of Buxton
Wickers World's third and final launch site in Derbyshire is at a caravan site, a short distance from Buxton. Another private venue, The Clover Fields Caravan Park has a fabulous take off field.
On balloon flights from this venue you usually travel in a southerly direction, following the River Dove back towards Ashbourne. En route you may see Arbor Low, the 'Stonehenge' of the Peak District, dating back more than 4000 years!
When you call to check the weather conditions prior to your flight, Wickers World will tell you which launch site will be used. Please note that passengers need to be prepared to come to whichever site is being used on that day. If Wickers World had just one launch site, there would be days when they simply could not fly because of the wind direction. This system of using several sites gives greater flexibility, and thus allows more flights to take place!
---
Your Flight with Wickers World
Wickers World balloons fly all year round, on every single day that the weather and ground conditions allow, including weekends and Bank Holidays. They launch twice a day, about an hour after dawn, and again about two hours before sunset. It's at these times of day that the conditions are most suitable for ballooning.
For safety and comfort's sake, the balloons simply cannot fly if the weather is wet, windy or foggy – the aim at Wickers World is to give everybody a pleasant, enjoyable and safe experience! But don't worry, if the weather's poor, you can simply re-schedule your flight at your convenience.
On arrival at the launch site, you will be met by one of the Wickers World uniformed personnel at check-in. The balloons are then prepared for flight by the ground crew, whilst the pilots give their passengers a safety briefing.
That done, the inflation begins. It's a surprisingly quick process, with the balloons taking shape and rising off the ground within about 10 minutes. When ready, the pilot invites the passengers aboard, and within a few minutes more, it's up, up and away to the cheers from the crowd!
Once airborne, the flight is guaranteed to last at least an hour, and usually closer to an hour and a half. Passengers are always pleasantly surprised by how warm and comfortable the flight is. There's no chill from the breeze, because the balloon is moving with the wind, and the basket hangs as if it's motionless in the sky! There's no turbulence or other sensation of going up and down, in fact it's a really serene experience. It all adds up to a wonderful sensation of tranquility, whilst being exciting at the same time.
One of the beauties of ballooning is drifting with the wind – nobody knows where you will land until the pilot chooses a suitable place in which to bring you back to earth, which could be anywhere within a 25 mile radius of the start point! Every single balloon flight is different – a unique adventure! Of course, as you fly along the ground crew pursue you by road, whilst in radio contact with the pilot. After landing, all passengers are returned by road to the launch site, where flight certificates are presented by the pilot.
During almost every flight, Wickers World take a series of in-flight photographs and HD movies, which make a fantastic souvenir to remind you of your balloon flight for many years to come.
Ballooning is suitable for young and old alike, but does require a small degree of agility. There's no upper age limit; in fact the most mature passenger at Wickers World was 100 years old! Children simply need to be at least 4'6″ (1.35m) tall – otherwise they can't see over the side of the basket! Your safety and enjoyment are the primary objectives, so please call Wickers World should you wish to discuss any passenger's individual requirements.
---
Prices and Availability
Prices for this once-in-a-lifetime experience start from only £114. Wickers World also offers special 'Buy Now Pay Later' deals, where you pay just a £35 deposit now and spread the cost of your flight.
For more details of prices and availability, contact Wickers World using the Contact Form below.
---
Contact Wickers World