Grindleford Station Café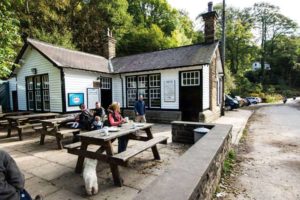 Grindleford Station Café is a legendary back-to-basics cafe in the lovely Peak District village of Grindleford, much loved by outdoors enthusiasts and those who love pints of tea and the biggest chip butties in the county!
The station house here was built in 1898 to support the train station at Grindleford, after the completion of the Totley tunnel, which is now the longest wholly under-land tunnel in the UK
The History of Grindleford Station Café
In 1973, Mr Philip and Mrs Margaret Eastwood took over the station house and turned it into a working café. 
Phil started from humble beginnings, working as a nightclub bouncer and later with a hotdog and kebab van.  In 1973 he saw Grindleford Cafe advertised for sale.  He spoke to the owner, Mrs. Reynolds, and agreed to purchase it, the only problem being that he could not afford it. Philip worked at the café with the long serving incumbent, Frank, and with the money saved from his hotdog sales, he gradually paid off the balance to Mrs. Reynolds. Phil's first week's takings of £3 went direct to Mrs. Reynolds.
A man of many firm views, likes and dislikes, Phil either said what he thought and/or put notices up accordingly. Badly behaved children, social workers, politicians, mushrooms, the Inland Revenue, Environmental Health, British Rail, Women's Libbers (sic), Derbyshire County Council – all received the benefit of Phil's wisdom. Some of his notices can still be found dotted around the café today, side by side with some of the original station waiting room fixtures and fittings.
Phil and Margaret made some changes to the café over the years such as building customer toilets and extending the building to make extra seating. They also introduced the cooking and sale of hot food, whereas previously only tea and cakes were sold at the café.
They were keen to retain the character of the original building and make the café a haven for outdoor enthusiasts such as bikers, walkers and cyclists, hence the hearty, wholesome menu we continue to serve to this day.
In 1977, Phil also put in a bottling plant next to the natural spring on the Eastwood family land nearby and sold the spring water to the offices and nightclubs of Sheffield. To this day, the water is still supplied to local businesses and the café is the only place where you can buy 500ml bottles!
Phil Eastwood lost his wife Margaret in 1996 and himself passed away in 2007.
The café has stayed in the Eastwood family, however, and is now run by his son, also called Phillip, and his wife Kulbir.
The café serves traditional hearty fayre and is open:
Monday – Friday – 9am – 4pm
Saturday – Sunday – 9am – 5pm
Last food orders 1 hour before closing.