Haddon Grove Farm Cottages
Haddon Grove Farm Cottages is an award-winning hamlet of cottages situated just outside Bakewell, an historic market town set in the heart of the beautiful Peak District National Park.
We have 1, 2, 3, 4 and 5 bedroom accommodation sleeping 51 people in total, over 10 cottages, making it the perfect location for small family or large group gatherings alike.  Activities can be done together, and each family or couple can retreat to their own cottage at the end of the day.  We also have a number of cottages which can accommodate larger numbers for meal times, including The Farmhouse, which can sleep up to 10 people and can be arranged to seat up to 30 people for dinner.  Haddon Grove is also ideal for couples and families.
We offer a range of services for any special occasion- whether it be a wedding, birthday, hen party, corporate team building or yoga retreat.
Haddon Grove Farm Cottages – For sports enthusiasts
Whether you are a serious cyclist and a member of a visiting cycling club or a casual rambler out for a family stroll, we have the facilities to accommodate all your needs.  ​Our dedicated secure storage bike shed has bike racks and a push button entry mechanism.  There is also an outside hosepipe facility to clean your bikes after a day's ride.
Our dedicated boot room is a new addition to Haddon Grove.  We have converted our old reception room into a facility that allows you to change muddy boots and wet clothes and leave them in situ without having to take them in to your beautiful cottages.  You also don't have to worry about the mud or the wet floor in the boot room……..  We will do the cleaning!
Haddon Grove Farm Cottages – Accommodation
Haddon Grove has everything that you might need for comfortable stay – either on site or as a base.  The beautiful cottages all have well equipped kitchens, televisions, DVD players and wifi.
There is also a swimming pool & games room, a children's playground, outdoor seating, mulitple BBQs, a bike & boot store, on-site laundry and Fire Packs that are available from reception.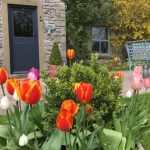 The Farmhouse
After a long day of activities in some of the most beautiful parts of Derbyshire's Peak District, The Farmhouse is the perfect Cottage in which to retreat.  Whether you are entertaining family and friends in the huge Farmhouse kitchen or relaxing with a book in the  resplendent charm of the living room, The Farmhouse is the perfect  home away from home……..  Oh and on those chilly days when all you fancy is a telly night, then you can cosy up in front of the log burner for real fire warmth and ambiance.  The Farmhouse has 5 bedrooms.
Cuckoo Cottage
Cuckoo is a cosy country cottage, ideally located in the Peak District.  It sleeps 5, with three bedrooms and one bathroom.
Fruitpip Cottage
Fruitpip is a lovely cottage nestled in the courtyard at Haddon Grove.  It sleeps 4, with two bedrooms and one bathroom.

Pippinwell Cottage
Pippinwell is a charming country cottage with a beautiful log burner for cozy nights in after a long walk in the breathtaking Lathkill Dale.  It is situated in our courtyard, which has a lit tree all year round.  Pippinwell has four bedrooms, each with an en-suite bathrooms.  All bathrooms have underfloor heating
​Bramble Cottage
Bramble is a charming self catering country cottage with a log burner, ideally located for the many walking routes around the Peak District  It has three bedrooms, one bathroom and sleeps 6.
Dandelion Cottage
Dandelion is a delightful ground floor cottage.  It has two bedrooms, both with en-suit bathrooms, and sleeps 4.  Dandelion is a DOG FRIENDLY cottage.  This cottage is ideal for groups of 8, or two families if booked together with Buttercup Cottage, as they have a shared entrance.
Buttercup Down Cottage
Buttercup Down is ideally situated to take advantage of all the Peak District has to offer.  It has two bedrooms and one shower room, and sleeps 4.  Buttercup Down is a DOG FRIENDLY cottage.

​Love Nest​
This is our deluxe bridal suite, complete with four-poster bed.  Whether you are a bride or not, the Love Nest is perfect for any special occasion, romantic getaway, or when you simply feel like treating yourself to a little luxury!  The Love Nest has its own kitchen, log burner and en-suite bathroom.
Lamp Cottage