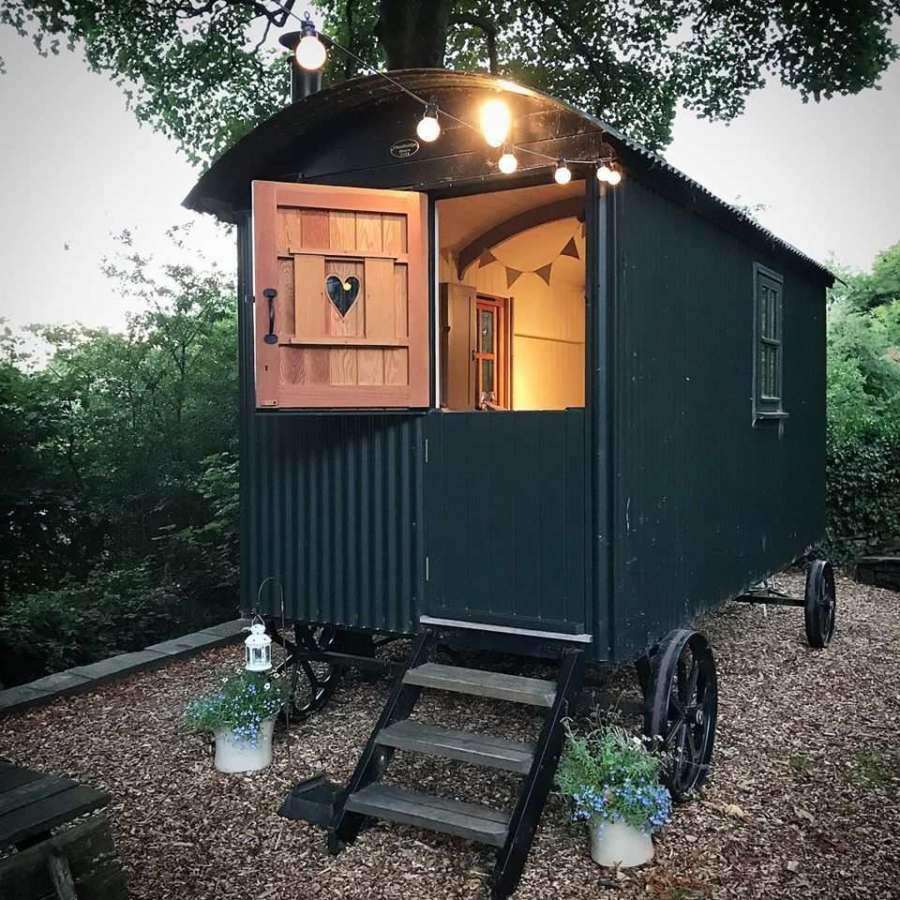 This truly delightful Shepherd's Hut sits in a beautiful acre of green overlooking the most stunning Peak District rolling countryside. Just a short stroll from the heart of the historic village of Eyam, yet secluded and peaceful, The Hut at Eyam is the perfect little retreat for two in which to escape from the hustle and bustle of normal life.
---
Once upon a little green hut…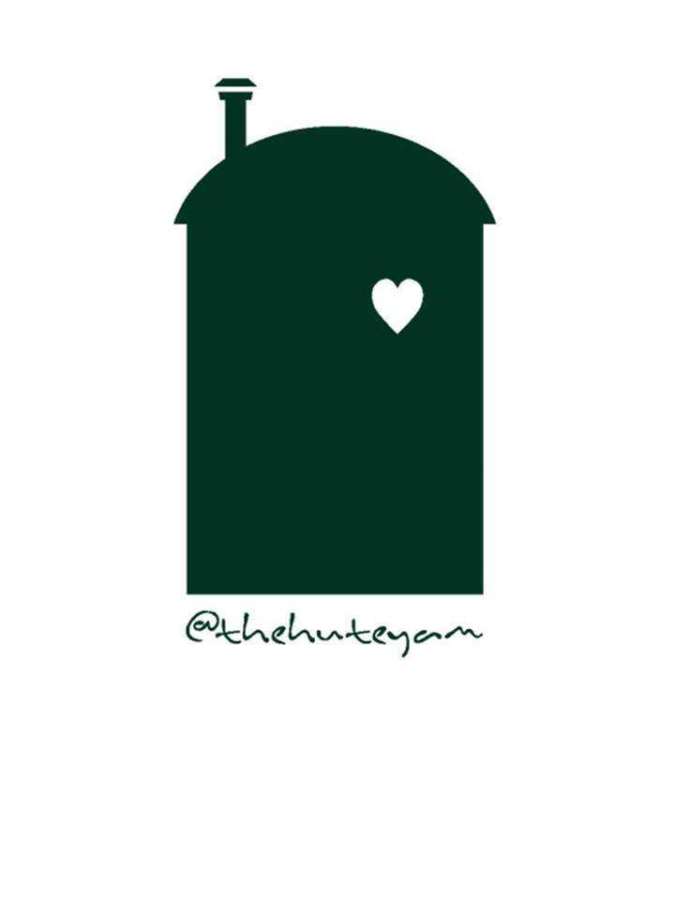 Once upon a time Rachel had a dream, to create a beautiful space of peace and quiet in a secluded corner of her lovely garden, a place where visitors could relax and unwind, where they could enjoy the wonderful Peak District countryside right on their doorstep.
And so, The Hut at Eyam was born.
Inside, you'll be amazed at how much you can fit into a cosy space! You'll find a comfortable full-size double bed with a sprung mattress and a goose down duvet, to ensure a blissful night's sleep.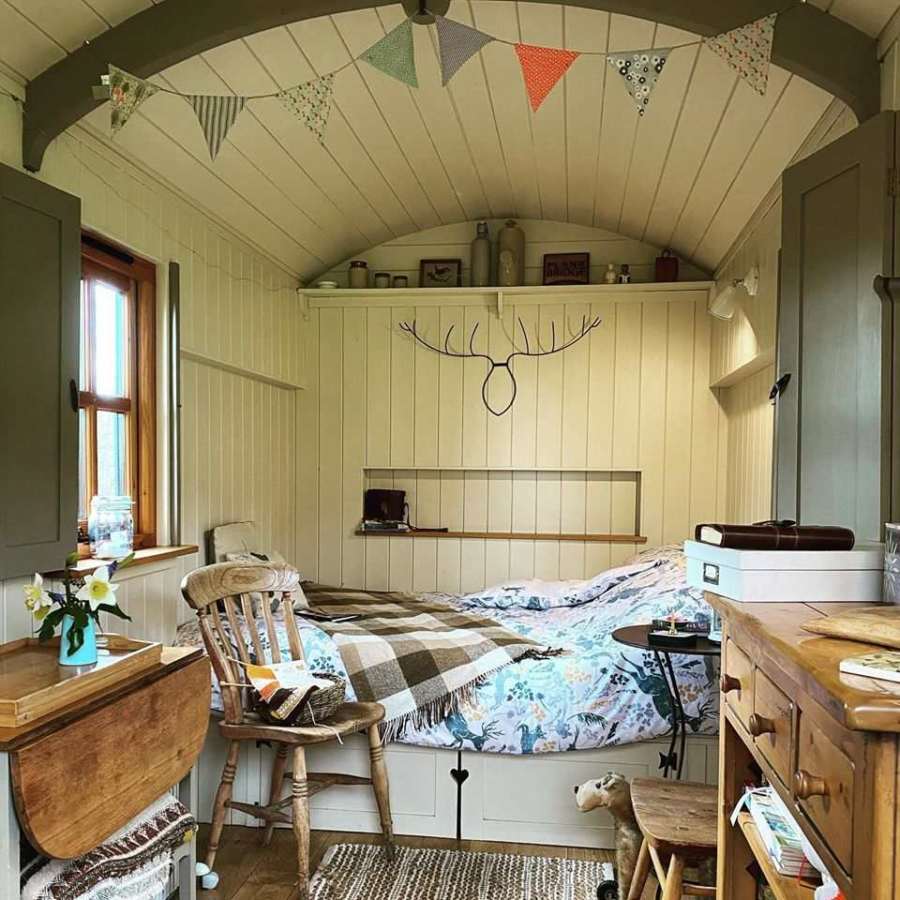 ​The wood-burning stove will keep you warm no matter how low the temperature drops outside, or there's a small electric heater if you'd prefer. An initial supply of logs, kindling, paper, firelighters and matches are provided, with more available to purchase if needed.
A vintage fold-out table and chairs provides space for your meals, or maybe for playing board games and cards in the evening. There's a small bookcase with a selection of magazines and books to help you relax. You'll also find spare blankets here, just in case.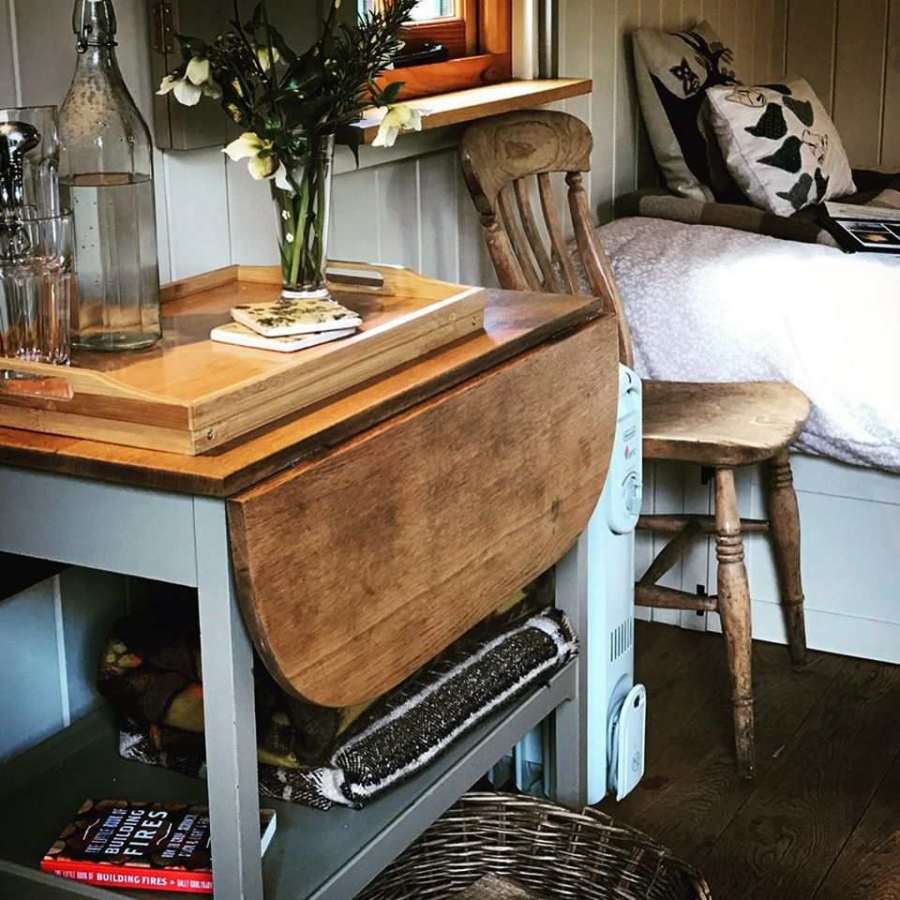 The only concession to technology in The Hut at Eyam is the DAB radio, the perfect way to while away a lazy afternoon. And of course, a corkscrew and wine glasses – an absolute necessity!
Under-bed storage will help you keep The Hut calm and clutter-free. ​
The Hut at Eyam is painted in heritage Farrow & Ball colours, decorated with charming touches to make your stay extra memorable.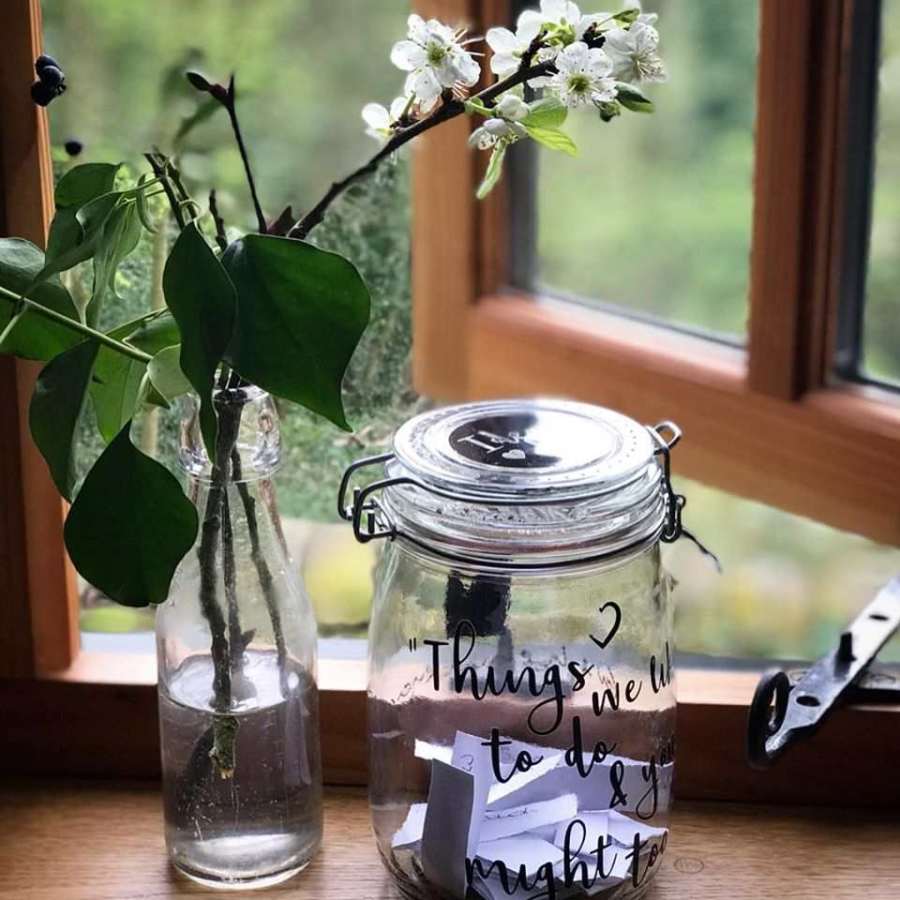 Outside, you'll find a fire pit to huddle around, perfect for keeping you warm while you're star-gazing on a clear night, or for toasting marshmallows. An initial basket of unseasoned wood is provided for the fire pit, with more available to purchase if required.
To the rear of The Hut is a seating area with a barbecue for your sole use – please just bring fuel.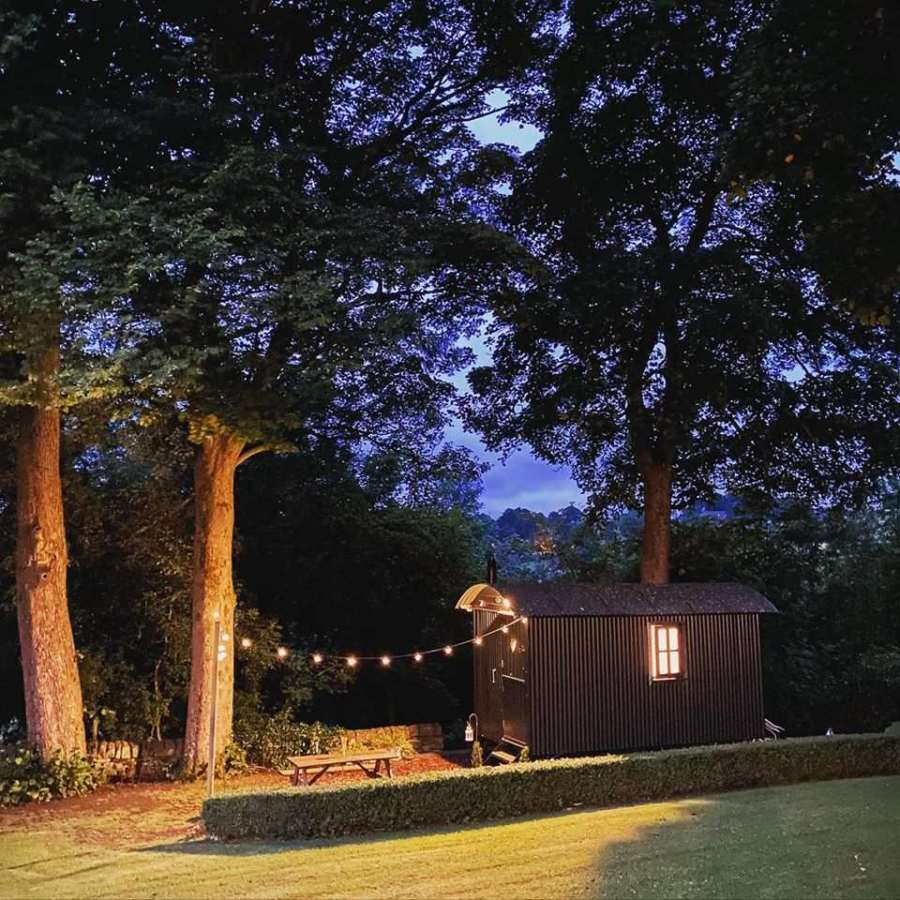 The views from The Hut at Eyam stretch for miles. In one direction you can gaze over the rolling White Peak hills, dotted with sheep and criss-crossed by dry limestone walls, while in the other direction lies the historic village of Eyam with its pretty stone cottages and ancient church.
We're confident that you'll make so many special memories in The Hut at Eyam you'll want to return time and time again to this little green hut and its slice of Peak District perfection!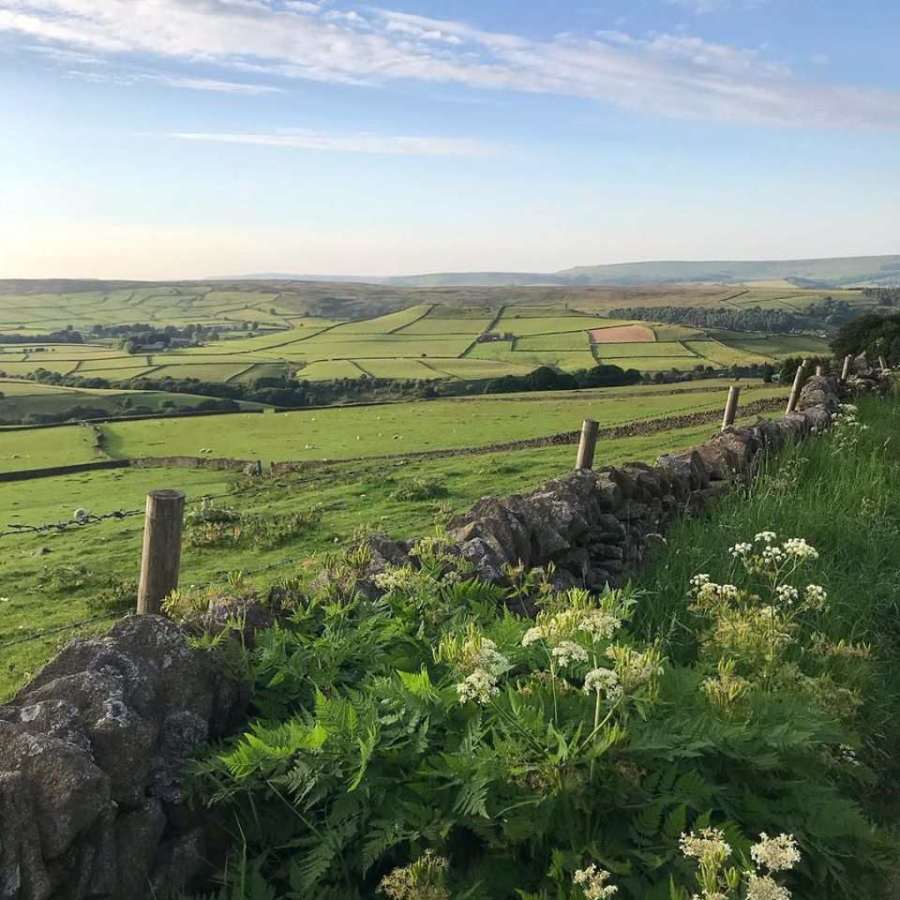 ---
The Hut at Eyam : Facilities
Your stay in The Hut at Eyam includes a breakfast hamper delivered to your door in the morning at your requested time. The hamper includes a hot flask of tea or coffee, cereal, yoghurt with fruit, bread rolls, butter and locally-produced honey.
Of course everyone likes mod cons for washing even when they're glamping, so here you'll find a fully heated luxurious shower/utility room for your use, just 30 metres away in the garden. In the shower room there's hot water, a sink, an electric shower, a toilet and a heated towel rail, plus a kettle, crockery/cutlery and a fridge. Tea, coffee and milk are provided, as are towels and all bed linen.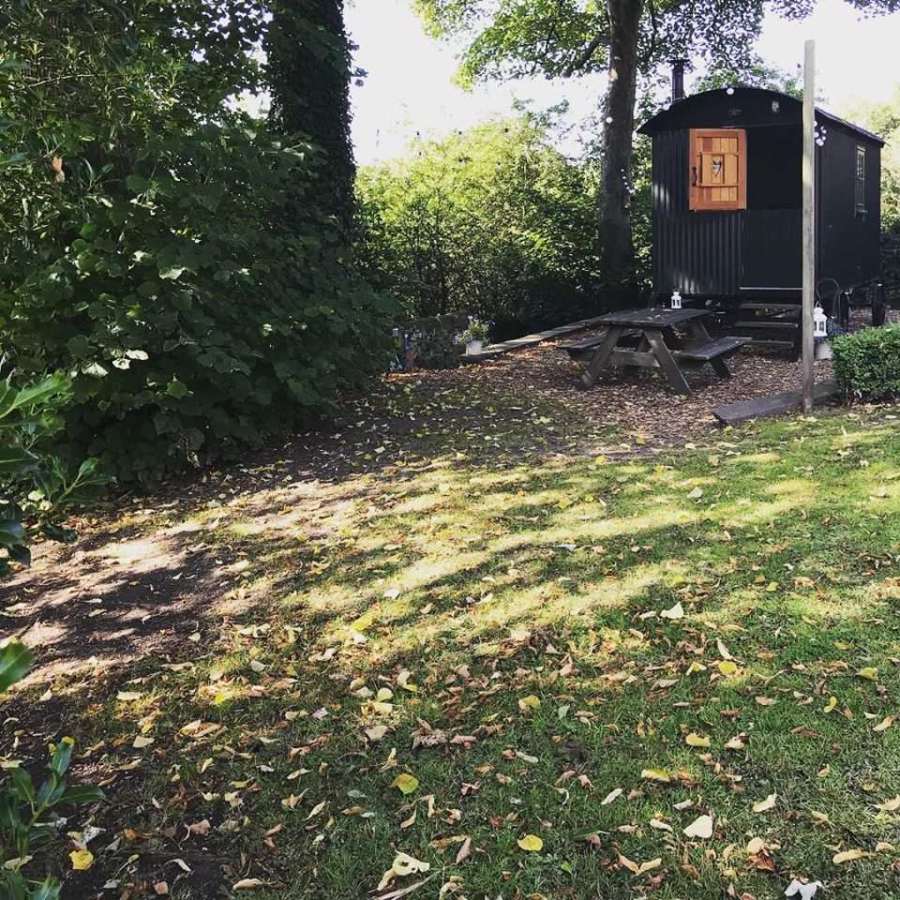 ---
The Hut at Eyam : Location
Historic Eyam
The beautiful village of Eyam offers a perfect day out in this part of the Peak District National Park. Set in a stunning location, it has a fascinating and inspiring history, and its narrow lanes are filled with pretty cottages and a wealth of interesting buildings.
Eyam is perhaps best known for being the 'Plague Village', recalling the days when it saw an outbreak of the bubonic plague in the 1600s. It's a tragic tale, but also an inspiring story of great courage. As the villagers died in their hundreds over the course of a few months in 1665, the community's rector, Rev William Mompesson, persuaded the people of Eyam to quarantine themselves off from the rest of the world to prevent the spread of disease to neighbouring areas.
This huge sacrifice meant that nobody left or entered Eyam for the next 14 months. During this time at least 270 of the 350 villagers died of the plague, including Rev Mompesson's wife. Supplies were brought in to the village and left on boundary stones, with the money to pay for them left on the same stones in exchange. One of the main Boundary Stones is still standing to this day and can be seen on a short walk from the village.
The act of quarantine meant that the plague was contained within Eyam, and the last plague victim died in November 1666. The bravery of the villagers in isolating themselves during their worst hour of need meant that hundreds, if not thousands, of lives were saved in nearby villages.
Reminders and monuments to this period in Eyam's history can be seen throughout the village. Many of the pretty stone cottages have markers denoting their previous residents during the Plague years, along with their fates. There are also a number of Plague graveyards on the edge of the village, including the poignant Riley Graves, monuments to a family of six children and their father who all died within 8 days.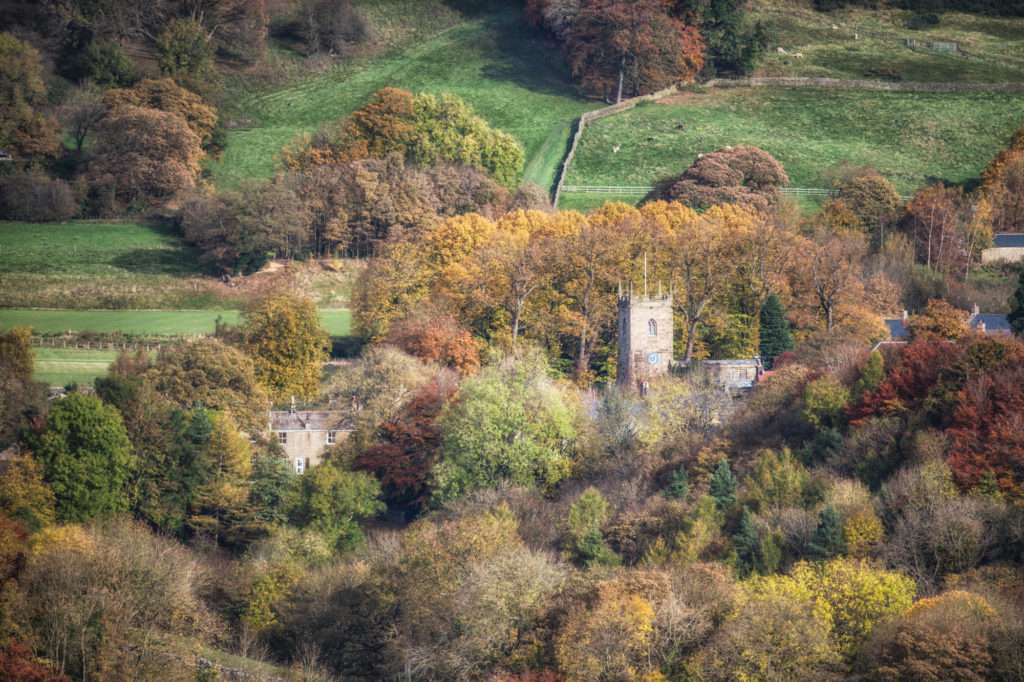 Eyam Today
The village of Eyam today is a peaceful, pretty place. The reminders of its tragic past are there, but they don't dominate the village. Instead, you'll find beautiful stone cottages and gracious houses lining the streets, and views out to open countryside in whichever direction you look.
Eyam is also well served with a number of wonderful cafés, tea rooms, restaurants and a great village pub, as well as a handful of useful village shops and a lovely courtyard of artisan makers and craftsmen. There's also a small but interesting Museum and a Visitor Information Centre. In the centre of the village you'll find Eyam Hall, a beautiful Jacobean manor house that's open to the public.
When you stay in The Hut at Eyam you're also within close driving distance of the lovely Peak District town of Bakewell, famed for its sweet pudding, but also renowned for its lovely independent shops in cobbled courtyards.
You're also within an easy drive of the beautiful country house estates of Chatsworth and Haddon Hall, both providing fantastic days out.
This part of the Peak District is perfect walking and cycling country. While you're in the area why not try the lovely Let's Go Peak District Eyam Walk (5 miles)?
---
The Hut at Eyam : Information
The Hut at Eyam sleeps 2 adults OR 1 adult plus 1 child (age 12+).
The Hut at Eyam offers self check-in for great flexibility, and a welcome food/drink hamper of locally sourced goodies can be provided to await your arrival.
Parking is available on the drive close to The Hut.
For safety reasons The Hut at Eyam can't accommodate children under the age of 12, and regretfully dogs are not permitted. Please note that there is strictly no smoking inside The Hut or the washroom.
---
Contact The Hut at Eyam
For more information, to check availability or to make a booking, please get in touch with Rachel at The Hut, she'll be delighted to help you!
​