Winnats Pass #weshallwinnatspass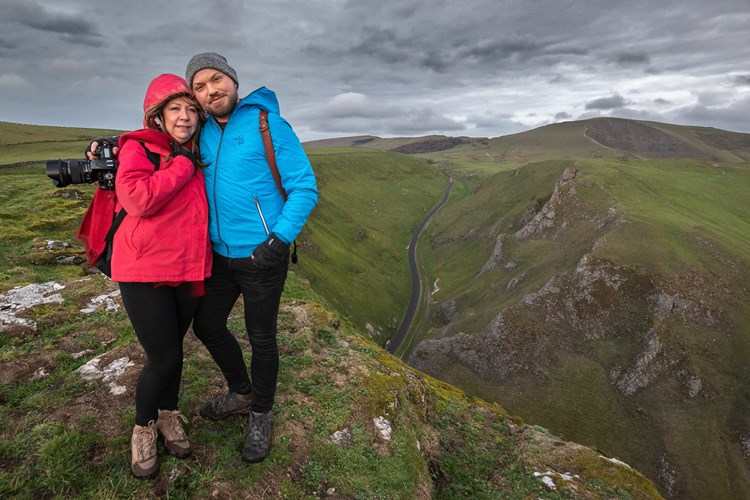 Wesley Chambers aka #peopleofthepeak has taken action after seeing the iconic Winnats Pass stile fall into disrepair. So he is raising funds to replace it and to make charitable donations.
#1 replace the iconic Winnats Pass Stile, and
#2 raise funds for Edale Mountain Rescue Team, the Peak District National Park Foundation, and the Derbyshire Wildlife Trust. This masterminded and actioned by Wesley Chambers, a Let's Go Peak District Photography Ambassador
---
"Some people, some places are always special to us"
My earliest memory of the Peak District National Park is the iconic Winnats Pass. As a kid it always fascinated me looking out the car window looking up at the strange shapes of the rocks and pinnacles, as we drove through, usually to Manchester Airport on a holiday. I remember being excited on the way home to go through the steep picturesque gorge! We also had many trips to nearby Castleton and that whole area of Hope Valley just felt like another world! A world away from Sheffield where I was born and bred.
I'm Wesley a Photography ambassador for Let's go Peak District and I'm also known as PeopleofthePeak on Instagram and Facebook . The Peak District always had a part in my upbringing and teenage years but it was in my late 20's when I fully appreciated the whole park and started to visit other parts. I discovered a new found love of Photography and self taught, the Peak was and still is my class room where I can practise my techniques.
I find getting outside in these beautiful places really helped with a depression and anxiety episode I was struggling with at the time and have been medicine free for a number of years now and I put that down to my time out in the Peak District and Photography.
Back to Winnats and it is still one of my favourite places to visit and Photograph! It's very popular with other Photographers, hikers, cyclists, tourists, instagrammers and is world famous for its iconic road winding through the deep gorge. It is said to have been a coral reef and you can imagine that when you see it in real life!
Although Winnats is very accessible at the ground level and alongside the road. The elevated views from above need abit of a steep hike to get to. Unless you're in the know 😉 a lesser known walk is actually at the very top of the road at a junction leading to Mam Tor. You can park at a lay by there and go left towards a big stile which will lead you over a field towards the top.
There's another stile at the end which I believe is the most iconic stile in the Peak District. As you view it – with the tops of the Gorge and Hope Valley with its famous cement factory in the distance – It just stirs that feel-good feeling inside.
It's an incredible view. Climbing over that stile onto the top of Winnats Pass feels like the start of an adventure and you know you're in for a good time. Many times this stile has been used over the years and over time the wear has started to take its toll. It's on its last legs quite literally!
* WhiteOut! In February this year! The day of a bad fall but I was so excited to capture the snow!
I went earlier in the year before the covid crisis hit, when we had snow as I wanted to get some shots in those conditions. I lost my camera and tripod in a freak gust and stupidly tried to retrieve it.
I slipped and rolled sideways half way down the side and to be honest I'm lucky to be alive! On that day Sam Walker a fellow Photographer saw me fall and came to my aid helping me down and retrieving my camera. Also Edale Mountain Rescue came to my aid and checked me over and made sure I was ok to get home.
I can't thank these people enough for helping and I always said I would repay them in some way.
* you can read more about this here https://www.bbc.co.uk/news/uk-england-derbyshire-51677810
My goal here is to get this Stile replaced as it's just about to fully collapse and to give back to everyone that helped me, the park itself and the locals affected by the current Covid crisis.
The Stile will likely collapse soon and once that happens it makes an accessible route impassable and quite dangerous as there's barbed wire. It prevents a lot of people who enjoy walking here from seeing the amazing views.
It's a much loved Stile to use and to Photograph and Winnats Pass has a strong symbolism as a gateway to the Hope Valley and the Peak District! I know it would mean a lot, not to just myself and fellow Photographers but many, many others!
I also know that a lot of people will discover this route for themselves after the recent cloud inversion spectacles which this area is famous for and if planned and the right conditions appear, is something you don't want to miss!
Please help me get this fixed so for many more years this view point can be enjoyed!
Details of this crowd funding campaign to follow shortly and break down of costs and materials. Donations past the cost of the materials and labour will be spilt between Edale Mountain Rescue, Peak District Foundation and another Charity that Sam Walker will choose and I'll update with soon .
Please donate what you can, every single donation counts, every like, share, comment on social media and word of mouth counts! I'll be sure to thank each and everyone of you and hope to arrange a meet here in the not to distant but socially distant haha future!
Tag me #peopleofthepeak or #weshallwinnatspass on instagram with your Winnats Pass pictures and let's share the many stories from this incredible place! I'll feature them on my stories and thankyou to each and everyone of you who gets on board with this! Its not just any stile this one! Its "THE STILE"
WE SHALL PASS!
#weshallwinnatspass #peopleofthepeak #letsgopeakdistrict #winnatspass
#peopleofthepeak Social Feed
This message is only visible to site admins
Backup cache in use.
PPCA Error: Due to Facebook API changes it is no longer possible to display a feed from a Facebook Page you are not an admin of. The Facebook feed below is not using a valid Access Token for this Facebook page and so has stopped updating.