Amazing Minninglow
The mysterious site of Minninglow (also referred to as Minning Low) lies in the Derbyshire Peak District, located just off the High Peak Trail, closest to the villages of Pikehall and Parwich. 
It is a large collection of ancient tombs strewn through woodland on the top of a hill, with a distinctive double ring of beech trees that make it a landmark for many miles around. 
The tombs comprise an Early Neolithic chambered tomb which is the largest in Derbyshire, dating back to 3400BC, and two bowl barrows that date back to the Bronze Age.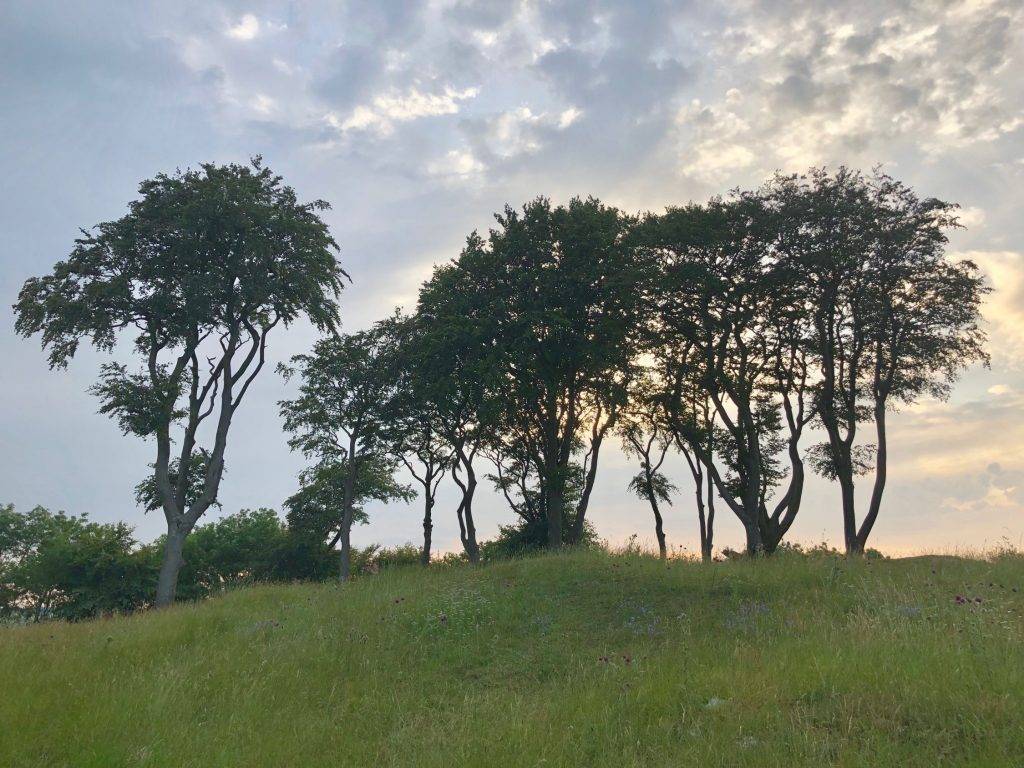 The Minninglow chambered tomb is made up of an oval-shaped cairn that measures 45m x 38m and stands at a height of 2.4m.  It contains two complete chambers made of limestone slabs, and three further incomplete chambers.
Chambered tombs are funerary monuments, marking the ancient resting places of Britain's earliest rural communities.  They were often used for communal burials and were also likely to have been ritual sites for local people. 
Only 300 chambered tombs still survive in England, and the tomb at Minninglow is particularly well-preserved.  Because of this it has nationally-recognised heritage status as a Scheduled Ancient Monument.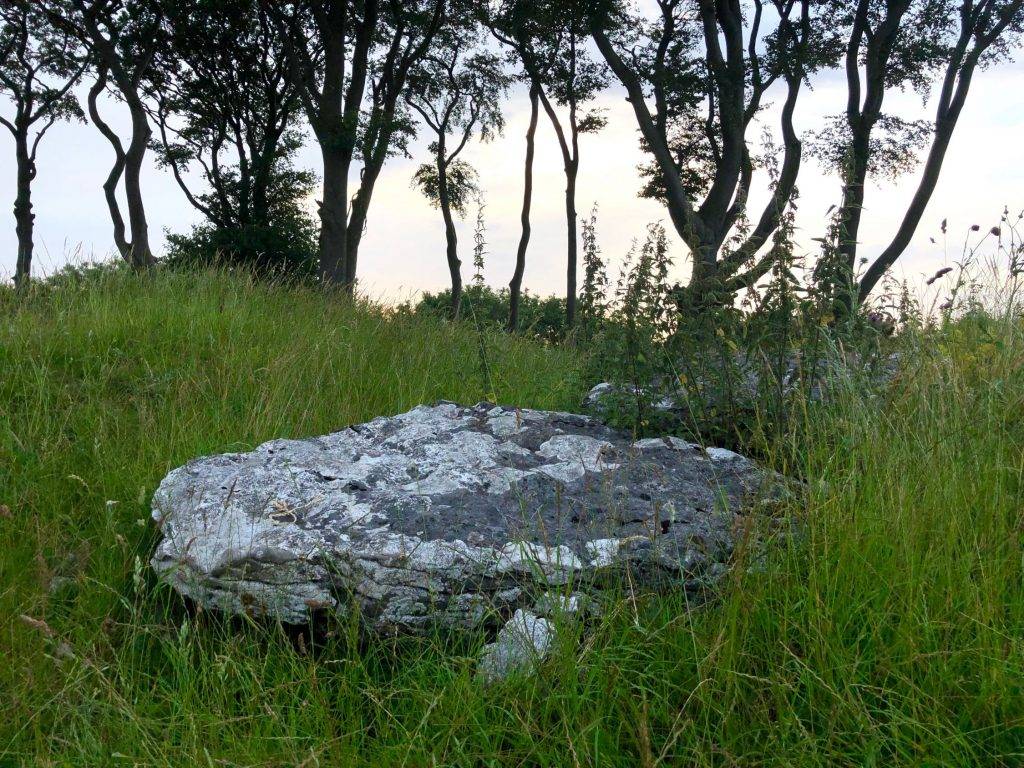 The Bronze Age barrows are also very well-preserved. They are located approximately 25m north-west of the chambered tomb and form an oval mound that measures 23.5m x 16.5m, standing at 2m high.
Excavations of the chambered tomb carried out between 1843 and 1851 revealed human bones, as well as Roman bronzes, coins and pottery dating from the 3rd Century, suggesting that the Romans had also used or disturbed the site. Excavations of the Bronze Age barrows revealed two flint knives, a bronze razor and a bone tool.
There is a concessionary footpath to Minninglow from the High Peak Trail, starting at SK20577, and it is well worth exploring respectfully.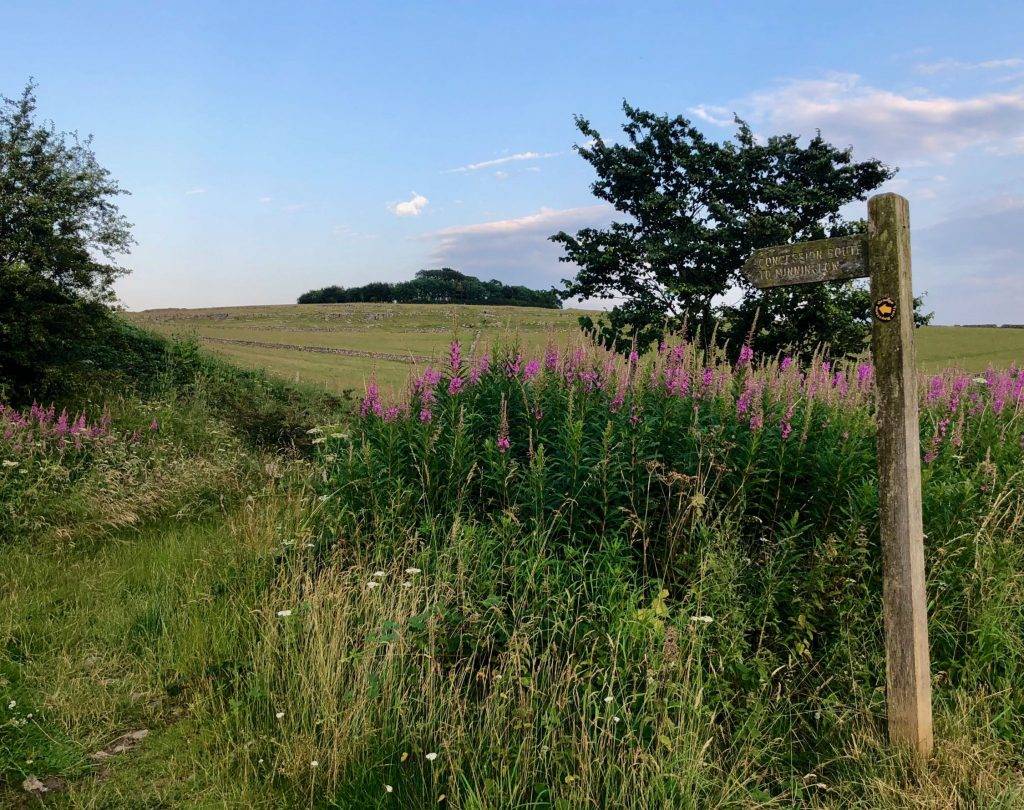 Short walk: Minninglow via the High Peak Trail
This circular walk takes you to the top of the magnificent Minninglow Hill, an ancient and mysterious landmark. Minninglow Hill is the site of a collection of Neolithic tombs, dating from around 3,000BC. The tombs are still very evident, scattered around a later circular mound constructed in the Bronze Age. The whole site is now crowned by a group of tall beech trees and encircled by a further outer ring of younger beech trees, creating a distinctive shape that is recognisable from many points throughout the White Peak. There are magnificent views all the way along this walk. [view minninglow walk in full]
Cycle Ride: Parsley Hay Circular including Minninglow
A 13 mile route is relatively flat and uses mostly even terrain. The vast majority of the route is on either the Tissington Trail or the High Peak Trail, both former railway lines that have been converted to well-made cinder walking/cycling/riding trails. There is a very short section on road, and about 2 miles of the route is uneven and rocky, best suited to all-terrain or mountain bikes. Note that the same route is used for the High Peak Trail, the Pennine Bridleway and the Midshires Way, so don't be concerned if you see signs for any of these names!
The route takes in the most perfect views across the White Peak, and a short detour (on foot) allows you to explore the mysterious ancient site of Minninglow Hill. Although it is quite a distance, this is the perfect route for a family day out – take it easy with rest stops to enjoy the views and take along a picnic!
The route starts from the Peak District National Park Visitor Information Centre at Parsley Hay. There is car parking available here (fees apply) and a bike hire centre, as well as public toilets, a café and small gift shop. [view the cycle ride in full]