"…Wherever an ambulance cannot reach you, we will get to you, treat you, and bring you back to safety and care."
Edale Mountain Rescue Team have been helping to save lives and rescue lost and injured people on the hills and valleys of the Peak District for over 63 years. Read all about the team, their work and what it takes to be a member in this great article from Dave Torr, who has been involved with the team for over 10 years.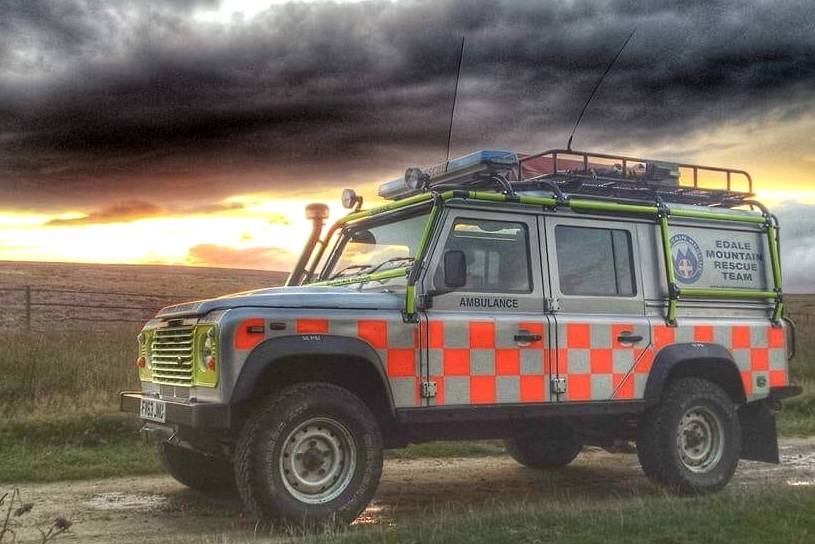 ---
Edale Mountain Rescue Team came into inception as a reaction to the popularity of the newly-formed Peak District National Park on 17 April 1951, the first National Park in England and Wales.  The landlord of the Nag's Head in Edale, Fred Heardman, and the newly appointed Head Ranger for the National Park, Tom Tomlinson, got together to form an emergency rescue post at the pub.
It was a typical cold Edale Sunday morning on 19 February 1956 when representatives from the Mountain Rescue Committee, Peak Park Planning Board, Fire, Police and the RAF MRT at Harpur Hill met at the Nag's Head to begin the first recorded exercise of Edale Mountain Rescue Team.
The next real milestone came after the 'Four Inns' tragedy in the Winter of 1964, when three Boy Scouts lost their lives. Within 12 months of this tragic event the Peak District Mountain Rescue Organisation (PDMRO) came into being, which brought greater organisational elements to the Peak District. The seven teams that made up the PDMRO, and still do to this day, are Edale, Buxton, Glossop, Kinder, Woodhead, Oldham and Derby.
In the early 1970s equipment was still nowhere near the standard of that used by today's team. The Ranger station at North Lees beneath Stanage Edge was used to store some ropes and medical bits, along with a stretcher. It moved around over the years to the Ranger Briefing Centre at Stoney Middleton and then to Brunt's Barn at Grindleford, another Ranger station. Lighting came from miners' acid cell lamps which caused havoc leaking acid on team members' clothing and, worse still, risked contaminating vital rescue equipment.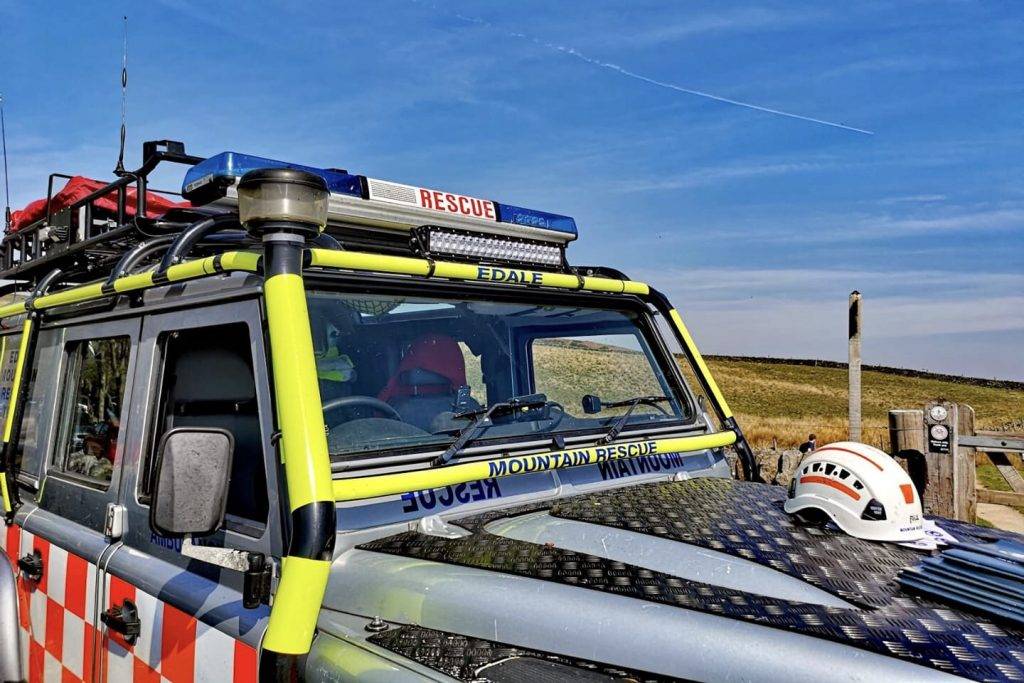 Edale Mountain Rescue Team New Headquarters
1986 was another major milestone for the team when we moved to our current site at the then Blue Circle Cement Works in Hope. The first buildings were a couple of portakabins donated by the NHS. For the first time in our history all our equipment was stored in one place, slightly dusty but safe and dry, and we were extremely grateful.
In 1990 we were offered a redundant large garage space at the Cement Works which we turned into a store, meeting room and garage. About a year later we gained our first vehicle, an ex British Telecom Ford Transit van, affectionately known as the 'Custard Bus'. Up to this point the team had relied on team members using their own transport and Rangers using the PDNP Land Rovers.
Lafarge now owned the Cement Works and they very generously offered us larger premises. A lot of hard work was carried out by team members and Lafarge staff modifying the three large industrial garages into a state-of-the-art Mountain Rescue base, complete with, among other things, a crag training wall.
The Lord Lieutenant of Derbyshire, Mr John Bather, officially opened the new base, where we still are to this day. Our landlords have changed over the years and now Breedon own the site. We are very lucky to have the continued support of Breedon and indeed all the past landlords, we do appreciate it immensely.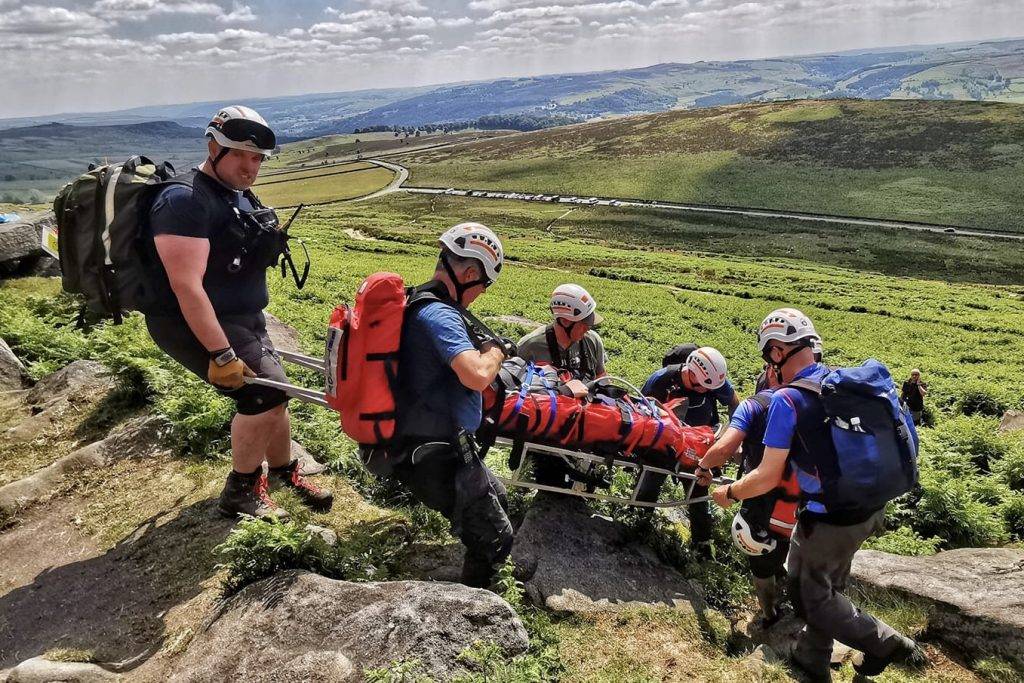 ---
Edale Mountain Rescue Team Today
We respond to an average of 120 callouts per year and and are one of the busiest and oldest teams in England and Wales.
Our callouts range from fallen climbers, horse riders, mountain and road cyclists, to lost and vulnerable people, gliders, hang gliders and para gliders, plus snow emergencies in all our surrounding villages and the suburbs of the towns and cities, including Sheffield and Chesterfield, as well as water incidents like the recent Whaley Bridge dam drama. In fact, wherever an ambulance cannot reach you, we will get to you, treat you, and bring you back to safety and care.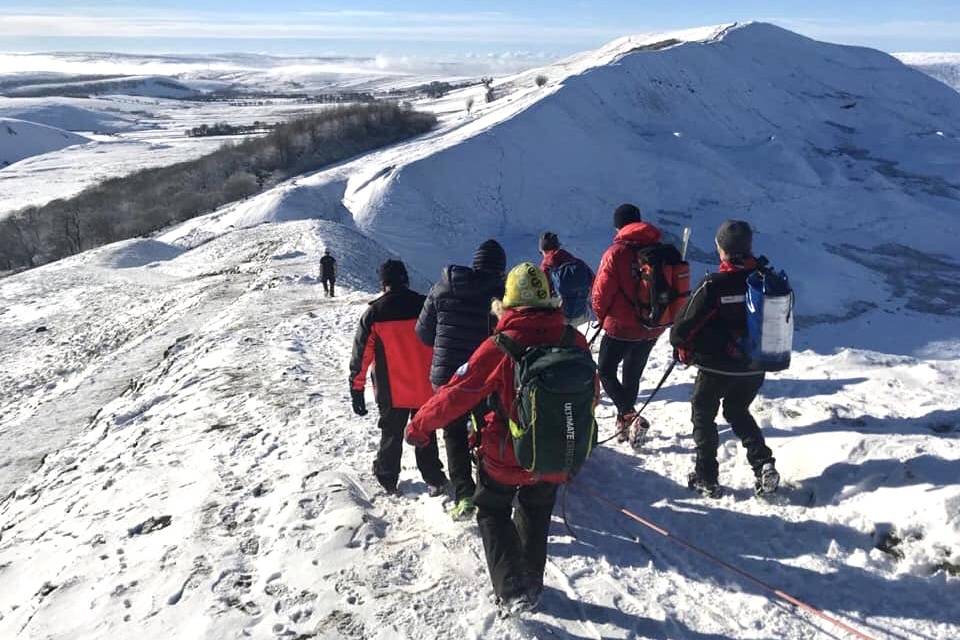 We respond directly for South Yorkshire Police and Derbyshire Constabulary along with East Midlands Ambulance Service and South Yorkshire Ambulance Service. This is quite unique for a Mountain Rescue Team, where we are on call for two different counties.
All team members undergo continuous intense training in trauma and medical scenarios and each team member goes through practical and written exams every two years to maintain their Mountain Rescue Casualty Care exam certificate. We train twice a month in every aspect of our work, search skills, crag rescue, stretcher handling, steep ground, map skills, medical, etc.
All vehicles go through a pre-drive checklist and a weekly checklist and undergo a 6-monthly MOT and service, so we can be as sure as we can that they are as roadworthy as possible.
Edale Mountain Rescue Team equipment takes a lot of looking after to maintain its integrity too, and this is checked twice a month under controlled conditions.  After each bag is checked it is sealed and signed off to show it is ready to deploy on a job if needed.  Every 6 months each and every bag is stripped down and each bit of kit is checked, which is quite a chore.  The Equipment Officer usually keeps the troops fed with bacon butties as he kinda knows the way to a volunteer's heart! 
To enable us to make safe progress through traffic all our blue light response drivers undergo a ROSPA driving course and must achieve gold standard before they are considered to progress to a blue light response driver course. We are very conscious of livestock when travelling on our 'blues and twos' and where necessary turn these off so as not to spook any animals. You may see a team suddenly turn all the blue lights and sirens off. This could mean a couple of things have happened; either we have been told by the lead vehicle that has arrived at a RV that the situation is not as serious as first thought and to continue on Code White (no blues and twos), or we have been stood down en-route.
There are around 55 team members, which also includes approximately 6 aspirants going through the training programme, at any one time. Training takes on average 18-24 months.
As you have probably gathered it takes a massive commitment to become a team member and to maintain team member status, which can put a lot of strain on relationships and family life. Without our understanding partners and families none of us could do what we do.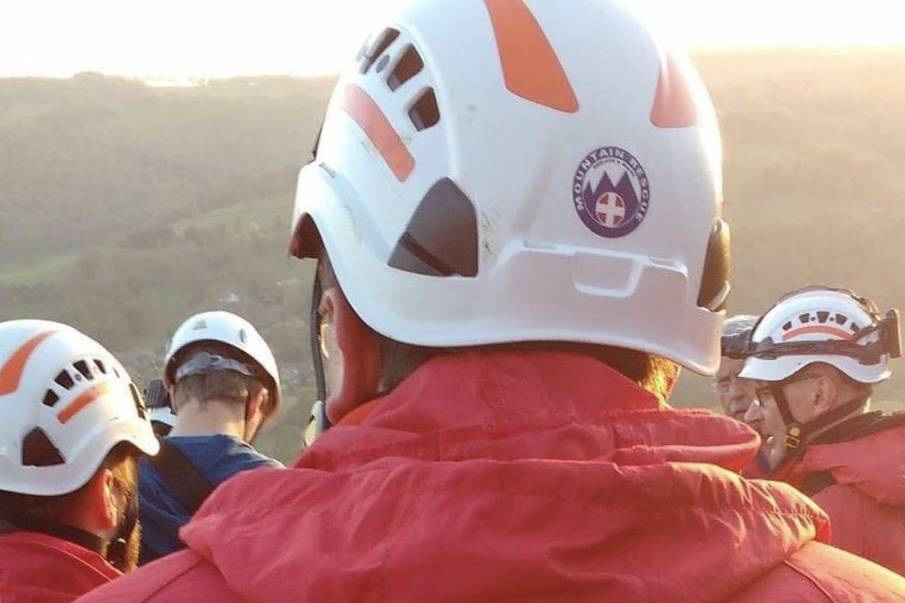 None of the Mountain Rescue Teams in England and Wales get any government funding. As such we are very proactive with fundraising and we rely solely on our wonderful supporters' kind donations which come from all different means, including talks we do, street collections, schools, Scouts and Air Cadets visits. Sometimes someone also remembers us in their will for whatever reason, and it is always quite humbling and very heartwarming to know that we have touched someone's life to be remembered in this way.
---
Safety on the hills
In these modern days of apps on mobile devices, people can and do rely solely on this method of navigation and communication. However, phone and data signals can be very poor or non-existent in the hills and deep valleys of the Peak District, and never underestimate the dangers of Kinder Scout and Bleaklow. These places have claimed the lives of numerous people over the years.
For example, we get people coming up to us while we are fundraising in Edale with their phones asking us about the best route, and when we look at their phone they are using Google maps. While that is a great application for road navigating, it is not designed for use off road!
We urge and encourage everyone to get some navigational skills. Even basic skills could get you out of a tricky situation. Once you learn the skills you will be surprised how much fun it can be and you will discover places that others are not aware of. Keep the apps as a tool in a tool box, but not as your main source of navigation.
Enjoy the great outdoors, come to the unique Peak District, visit the villages as well as the high tops, but most of all don't ruin your visit by not keeping safe.
If you do find yourself needing the help of Mountain Rescue, and if you have a telephone signal, call 999 and ask for Police and then Mountain Rescue. Be prepared to give them your location if you know it, the injured or lost party's details, and how many are in the group. If your battery is going flat then only use it to communicate with the emergency services, as Mountain Rescue will attempt to send you a link which will help pinpoint your position.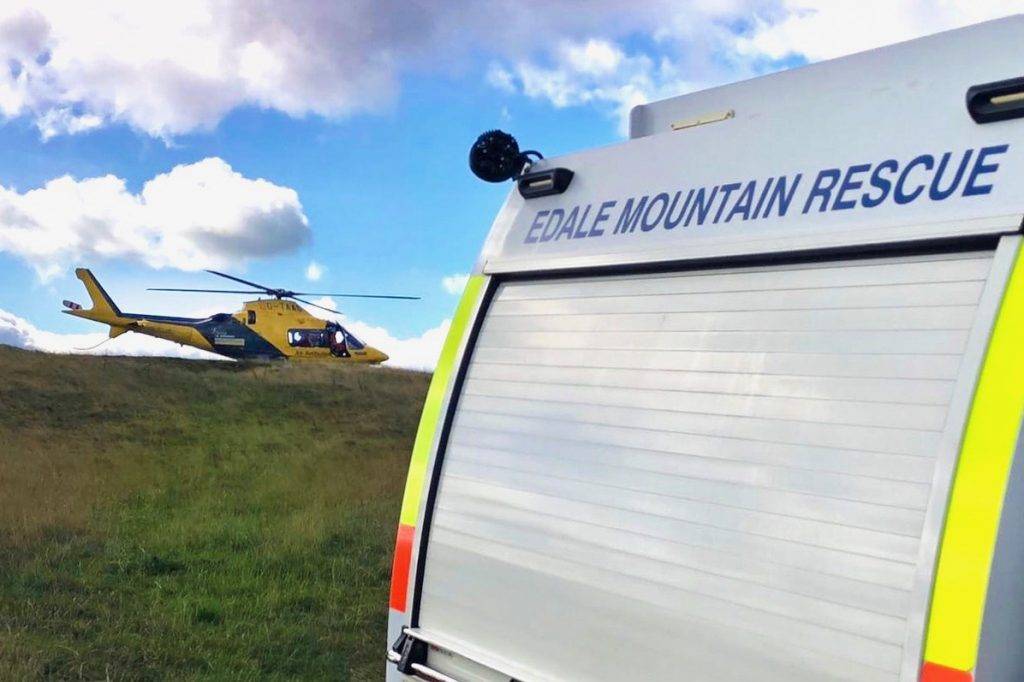 ---
Join us!
We are always actively seeking new members who live within our operational area and hold a current first aid certificate.
If you think you have what it takes to join our team, visit our website and download the application form. We would be happy to hear from you!
---
Finally…
Our team members are on call, day and night, 365 days a year, to help those in need on the hills. All are volunteers. We are a registered charity and we rely solely on donations to fund our work. We receive no government funding.
If you would like to make a donation to support our work, please click the button below to visit our Just Giving page. With the exception of a few administrative costs the money we receive is used solely to fund the operation of the team and secure its future. Every donation, no matter how small, is greatly appreciated.
Thank you.