Sue Prince, contemporary British folk artist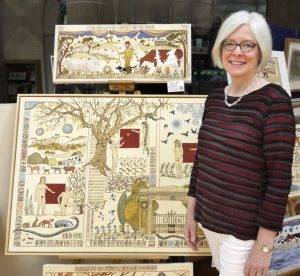 We are delighted to welcome the hugely talented Sue Prince as one of our Peak District Voices.
From her organic dairy farm in the Peak District, Sue creates stunning folk art paintings using traditional egg tempera (pigments mixed with egg yolk) on recycled linen, an ancient Swedish technique. Each painting tells a unique story of people and place.
In this article Sue shares with us her own story of the people and places that matter to her, and how they have influenced her life and work.
'Too beautiful for words'
My first visit to the Peak District was the Friday evening in 1984 when we tried to find a farm advertised for sale in the Farmer's Weekly. It was getting towards dusk and I found myself winding up an impossibly steep lane with a magical valley sweeping away to the left. At the top of the hill we found a farm.
'Surely it can't be that place, with that view?! It's too beautiful for words….'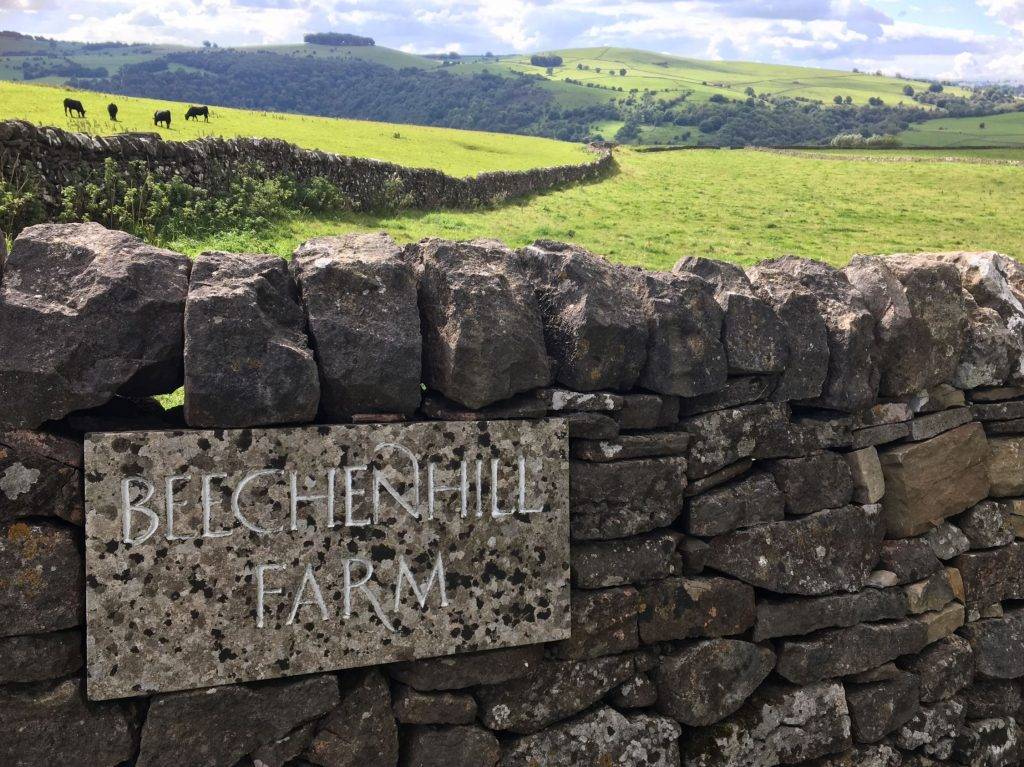 Having lived all over England from Hertfordshire to Newcastle on Tyne before marrying Terry, my farmer, in Marchington near Uttoxeter, I was completely unaware of the Peak District National Park. I knew nothing of the stunning White Peak landscape and I had never even heard of Dovedale!
It turned out that it was that farm, Beechenhill Farm at Ilam.
After much financial juggling we bought it. Actually, we are still buying it. Beechenhill has given our family, and later our visitors, so much joy and happiness.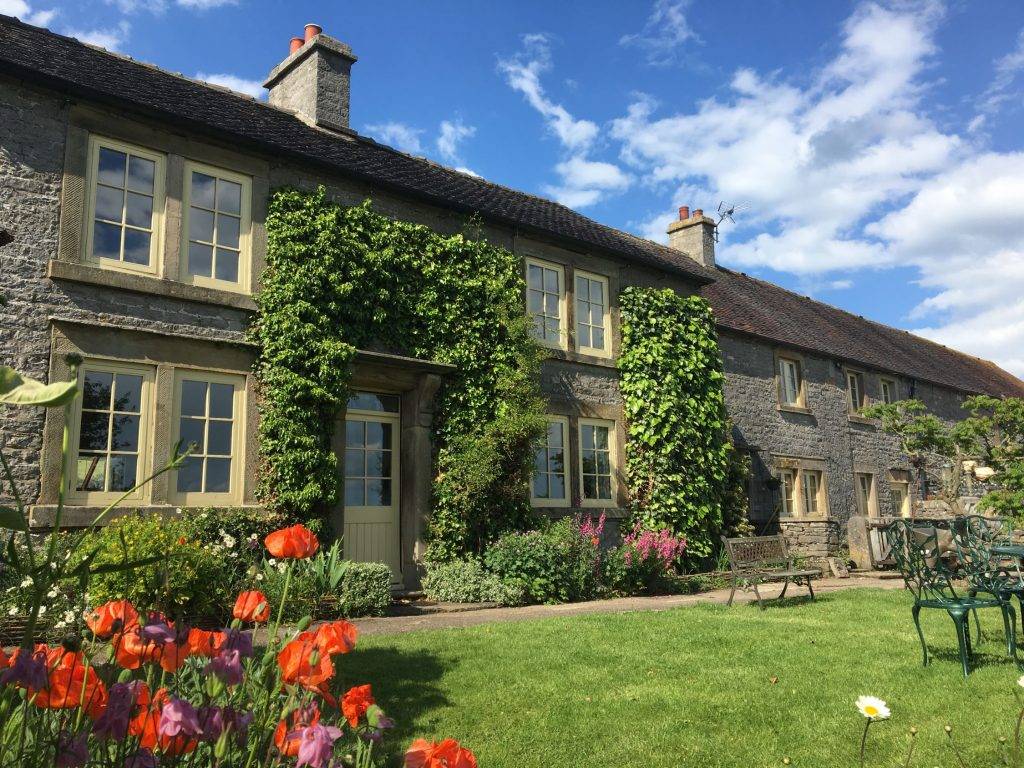 I learned about the National Park and discovered it for myself. I fell in love with the landscape and, humbled by its beauty, felt incredibly lucky to actually live here. I even ended up being a business member of the Peak District National Park Authority for over nine years.
Having moved with our two small daughters and 40 dairy cows, we set about renovating the house and buildings so that we could offer Bed & Breakfast accommodation and first one self-catering cottage, followed by two more (one completely wheelchair accessible), to help pay the mortgage.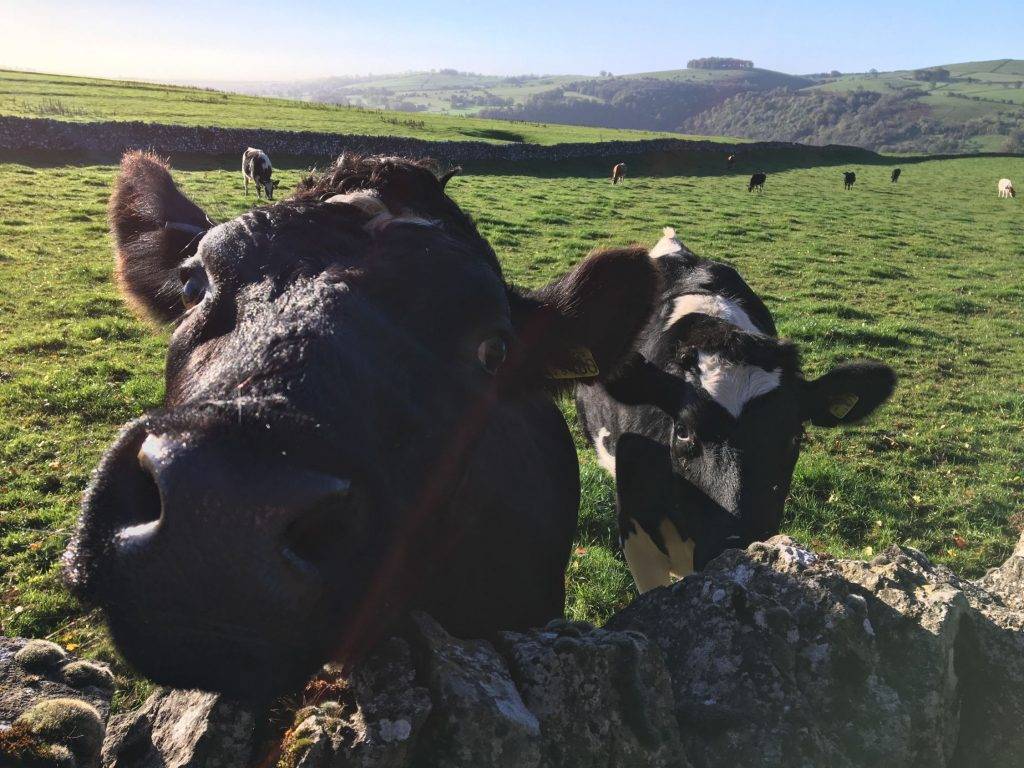 ---
Reviving an ancient art form from Sweden …
During all of this I continued work as a jobbing artist and illustrator. In the daytime I was a mummy and B&B lady, and overnight I worked away illustrating books. I also painted large tromp l'oeil murals to commission, and for myself I designed and stitched large cross-stitch tapestries full of our family story and many words (which usually took 3 years to complete!).
In 2000 we became an organic dairy farm. The process of learning about and embracing organic farming infected the rest of our lives; we woke up to the connectedness of everything. I started a local food project and our tourism business followed suit by becoming an ecotourism multi-award winner, and I got an OBE!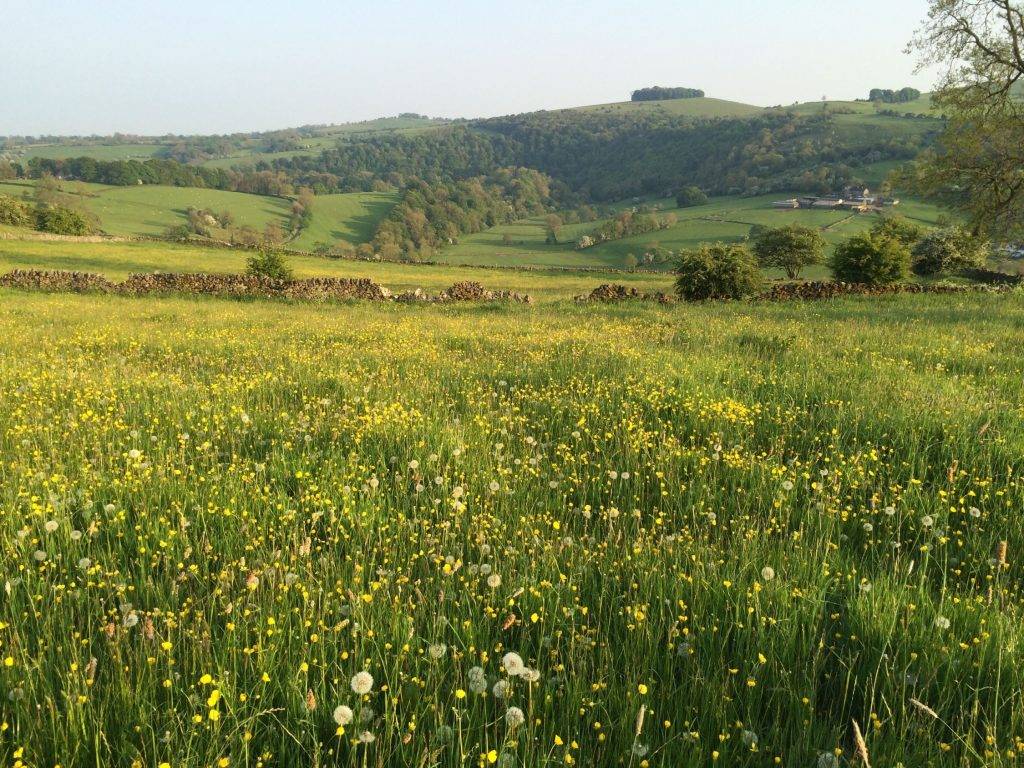 All this time my artwork continued. I was illustrating and painting, being a paint brush for hire in any style and medium, telling other people's stories.
In 2004 I had my mid-life crisis. I needed to find my own style and voice to tell my stories. My head was full of the stuff I wanted to express, but with no developed voice I was stuck!
Then I went to Sweden with an EU-funded Peak District National Park Ecotourism Project: Business and Environment linked through Small Scale Tourism (BESST).
I had always been inspired by the Bayeux Tapestry and artworks that incorporated words. The witty and clever use of words thrill me; I love Haiku and the conciseness of poetry. So when, in a little Swedish church hall, I saw a tapestry-like wall hanging, with naïvely painted characters bordered by indecipherable words, and found out it was painted in egg tempera paint on recycled linen, my head exploded. Natural, eco, reused material – it had all come together! I found out what I could. This was bonad painting (bonad means decorative wall hanging), but nobody knew the techniques involved.
When I came home to Ilam, I experimented, read ancient books, interrogated Google, and created my own paintings telling the story of BESST.
I took these back to Sweden on the next BESST visit. 'But this is dead! Nobody knows how to do this! Will you teach us?' was the reaction! There was one old gentleman in the village, Torsten Bengtsson, who still painted bonads, but he had refused to share the technique. I met him and he was very kind, showing me his studio and a glimpse of how he worked. Sadly he had died by the time I visited again a few months later.
So, from 2005, I taught Swedish Bonad Painting every summer for eleven years in the beautiful heritage park and Bonadsmuseum in Unnaryd in southern Sweden. Unnaryd, with its forests and huge Lake Bolmen has become my second 'heart-home'.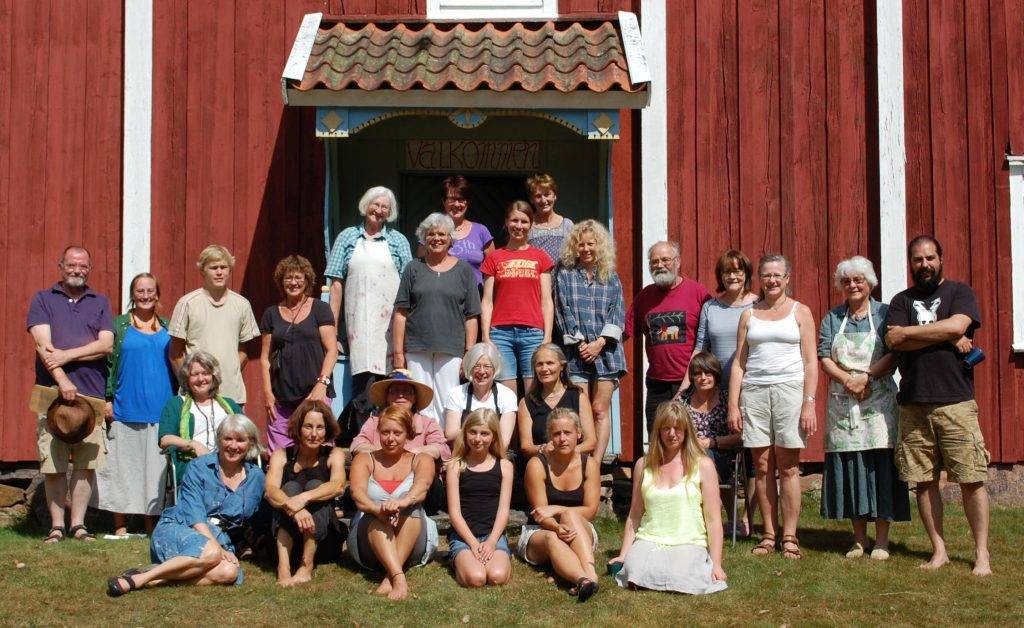 Over the years I have taught many Swedish people and this folk art is now thriving in its native place, especially being practised by young people and communities. I go back every couple of years to refresh my roots, and will run some more courses there soon.
---
…and bringing it to the dales of the Peak District
Here in the Peak District, the members of the art club I had started in Ilam decided they wanted to learn the technique.
So in 2009, after seven months of cold winter work in the Haybarn at Beechenhill, we produced the Story of Ilam. This is an 18 metre long folk art timeline of our fascinating village, a Peak District Bayeux Tapestry! Click here to read more about it: http://www.ilam.org.uk/ilam-story.asp?pageId=2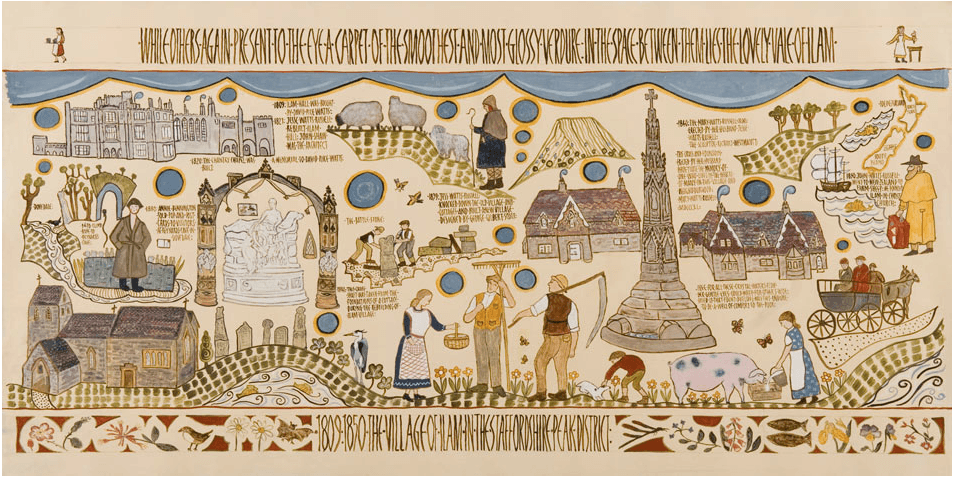 Having led a couple of community bonad painting projects in Sweden and now in Ilam, I realised how brilliant and effective they are for communities with a story to tell. So there followed:
The Ashbourne History Painting (170 participants)
Leek's Sir Gawain and the Green Knight (100 participants)
Alstonefield's Ann Green Festival painting of St Peter's Church (60-70 participants) and
The Peak District Artisans' Great Dome Art Fair painting (160 participants)
The next one is a commission for Bamford, such an exciting prospect, what with flooded villages, bouncing bombs and all!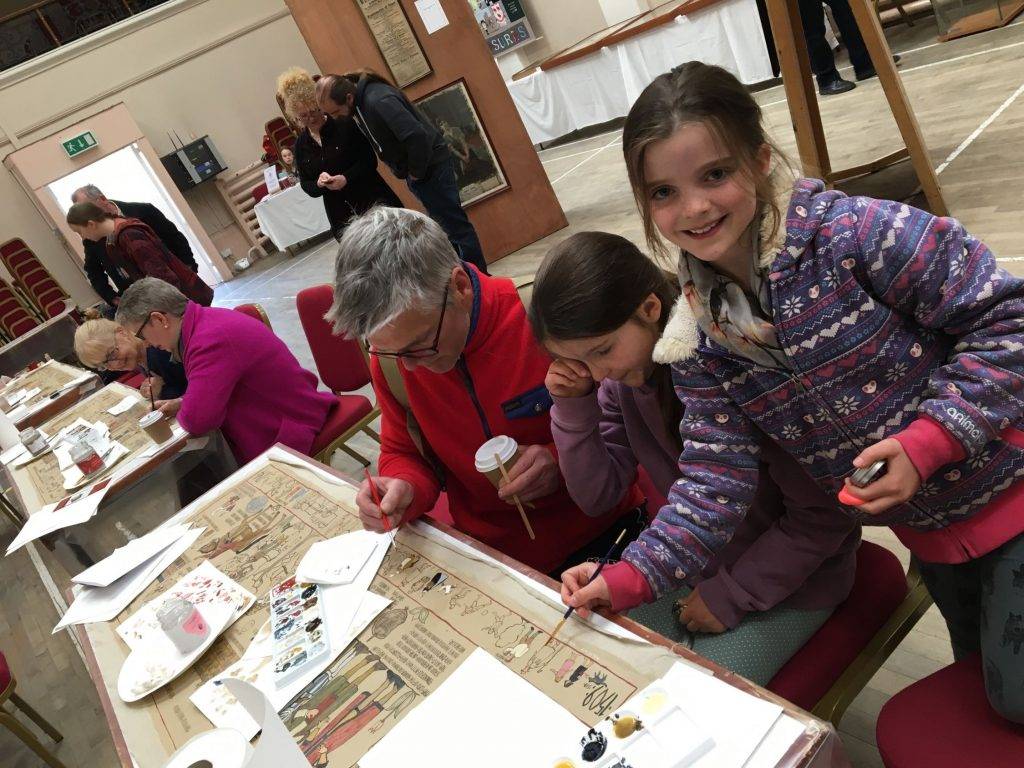 I am so grateful to Unnaryd, friends at Tiraholm and the Bonadsmuseum for giving me my voice, and so happy to have been instrumental in the revival of bonad painting. In Sweden the plural of bonad is bonader, but here they have become bonads and I find it hilarious that people in the Peak District insist on calling them bonads even though I call them folk art paintings or history paintings. I love language!
The palette of colours I use is that used by Johannes Nilsson (1757-1827) in Sweden, a limited range of six natural pigments which I grind and mix with egg yolk. I thrive on this constraint, I have to work hard to produce the exact colour I want and the colours look so harmonious.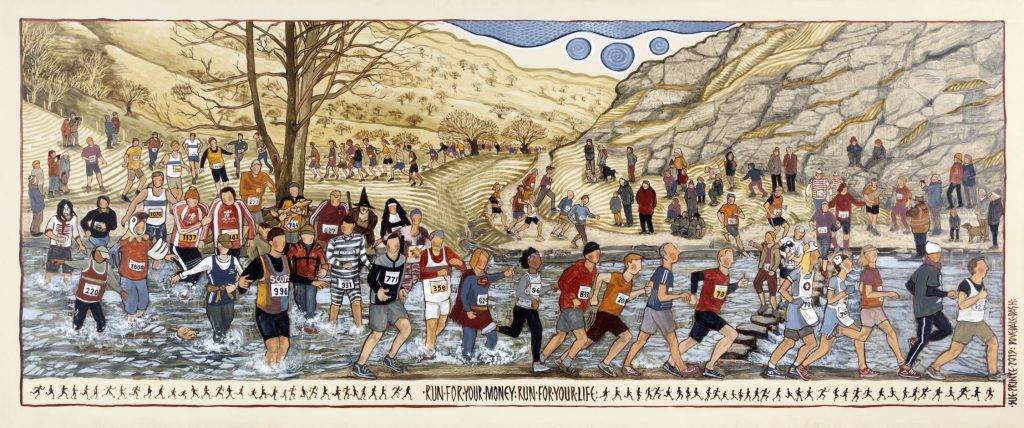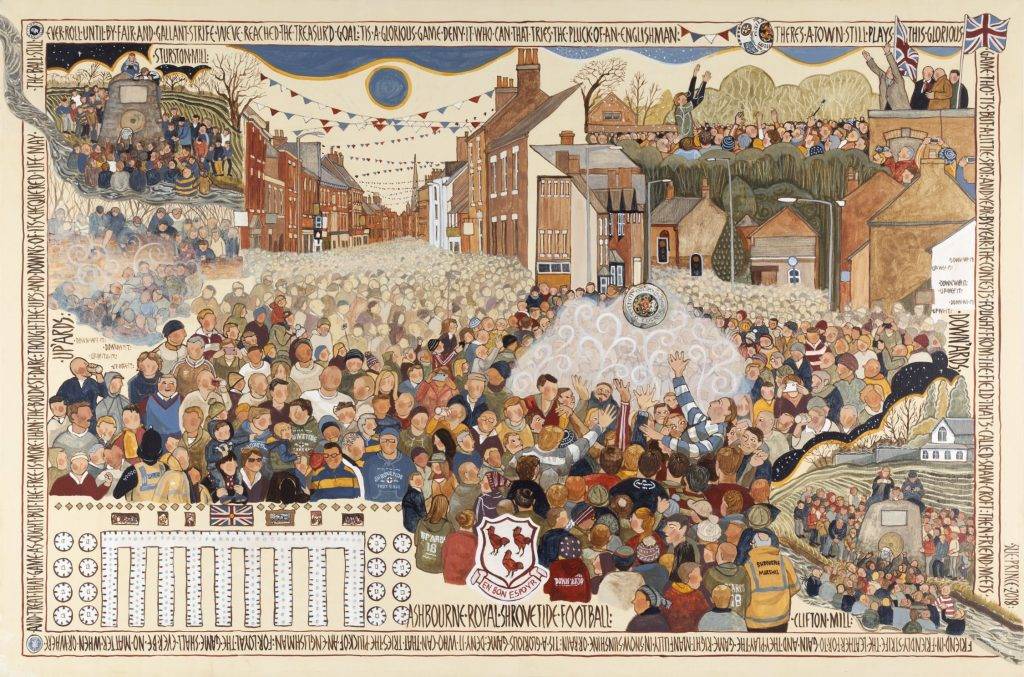 ---
A continuing story
My personal art work continues, telling my stories and sharing the joys and woes of our society. My Peak District paintings very often feature Hazleton Clump, the prominent stand of trees across the valley from Beechenhill. It is imprinted on my inner eye. I sell originals, prints, cards and books.
Now our eldest daughter Alex has come back to Beechenhill with her family. They are running our three cottages, complete with a Swedish-inspired, wood-fired hot tub and sauna, winning awards and doing a great job, so I am free to concentrate on my artwork. I run courses in our lovely restored and heated Haybarn (my gallery) as well as St John Gallery and Café in Ashbourne.
Currently I am proud to be chairman of a wonderful professional group of artists and makers: Peak District Artisans (www.peakdistrictartisans.co.uk). Our next show is The Winter Artisan Fair at the Whitworth Centre in Darley Dale DE4 2EQ, 10am-4pm on 9th and 10th November – see you there?
---
What more could an artist want?
The Peak District landscape; these green valleys and undulating hills, with the sliding shadows of clouds and the distant veils of rain dropping successively as they come towards us over the land, these are the food for my creativity.
From the farm I walk the edge of the Manifold Valley, constantly in awe of the folds and textures of the quilted land below. Dovedale on a sparkling November morning is a wonder; silent but for the splash and gurgle of the water. The shining limestone cliffs are secretly visible through leafless trees – it's gorgeous!
What more could an artist want?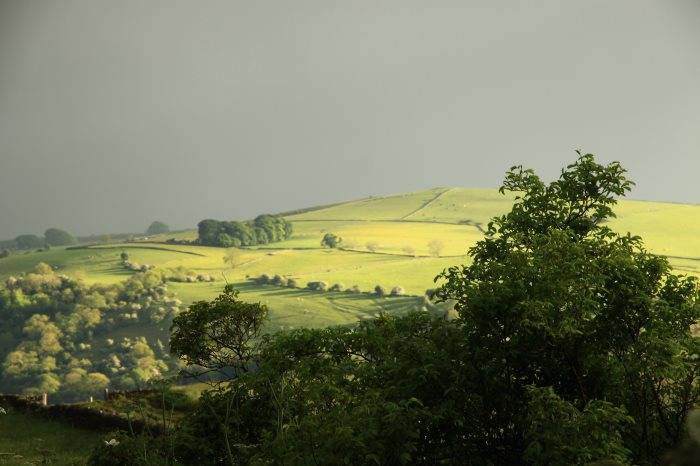 ---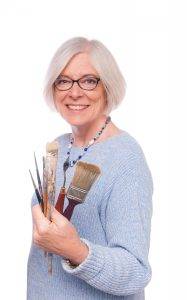 To learn more about Sue's work, to book on to any of her courses or to purchase any of her beautiful paintings, take a look at her website: https://www.sueprinceartist.co.uk/
To learn more about the stunning Beechenhill Farm, or to stay in one of her holiday cottages, have a look here: https://www.beechenhill.co.uk/