Known locally by the irreverent name The Devil's Arse, Peak Cavern is a hugely impressive show cave in the pretty village of Castleton. It is a short walk from the centre of the village and well-signposted.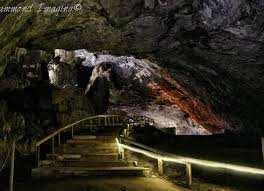 The entrance to Peak Cavern is the largest cave entrance in Britain, standing at 60 feet high, 100 feet wide and 340 feet long. Until as recently as 1915 Peak Cavern was the home of the last cave-dwellers in the UK, with a group of rope-makers living in the cave mouth and selling their wares to villagers and the lead mines.
Peak Cavern is made up of a number of chambers, each with their own natural features. The chambers are well lit to highlight the beauty of their rock formations, and guided tours are available to help you get the most out of your visit.
Peak Cavern is home to many events and concerts throughout the year, including an annual candlelit Christmas carol concert. At certain times of the year it also becomes a cinema with film screenings.
Image credits: Peak Cavern
Peak Cavern Castleton Social
[custom-facebook-feed id=DevilsArse]