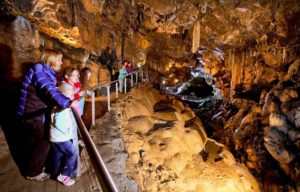 For centuries curious visitors have explored and marvelled at the natural subterranean world that is Poole's CavernFound deep in the Limestone Hills close to the historic Spa town of Buxton the cavern once gave shelter to pre-historic cave dwellers. Legend tells of a medieval robber's treasure hidden deep in the dark.
The vast water sculpted caverns and glistening Stalactite and Stalagmite formations were regarded by 17th century explorers as one of the Wonders of the Peak District.
Explore Poole's Cavern today with our expert guides and journey through the beautifully illuminated chambers and paved walkways to discover for yourself the magnificent underground scenery of the Peak District.
Back above ground take a stroll through Buxton Country Park and follow one of our woodland sculpture trails to the hilltop viewpoint of Solomon's Temple with spectacular peak land views.
Our Visitor centre includes the Cafe@ the Cavern with a wide range of delicious produce including daily specials, light snacks and fair trade coffee. Also our rock shop with gems and mineral samples, jewellery and Peak District products.
Poole's Cavern is open every day, rain or shine underground it's always fine.
We are open every day from 9.30 am to 5 pm March to October and 10 am to 4 pm Winter.
Entry prices 2018 Adult £9.95, Child £5.50, Family £27.00