Popular Peak District Walking according to Ordnance Survey
According to research performed by Ordnance Survey using data visualisations from the use of their navigation app, 3 starting points for walks were within the Peak District National Park.
The Peak District features in the Ordnance Survey Top 10 places to start a walk based on 700,000 tracked walks in August 2020 in position 1, 6 and 10.
Top 10 places in Great Britain where people have started a route – 2020
Wasdale Head, Lake District
Resting Hill, Yorkshire Dales
Keswick, Lake District
Horton in Ribblesdale, Yorkshire Dales
Kirk Howe, Lake District
Ambleside, Lake District
Seathwaite, Lake District
Source: https://www.ordnancesurvey.co.uk/blog/2020/08/britains-top-walking-spots-since-lockdown-eased/
---
Let's Go Peak District Walks that you can do that feature in the top 10
---
Edale & Mam Tor Circular 7.5 Miles
This walk takes in both Edale and Mam Tor in one circular. It is an exhilarating walk with amazing views. Take your time to enjoy this walk.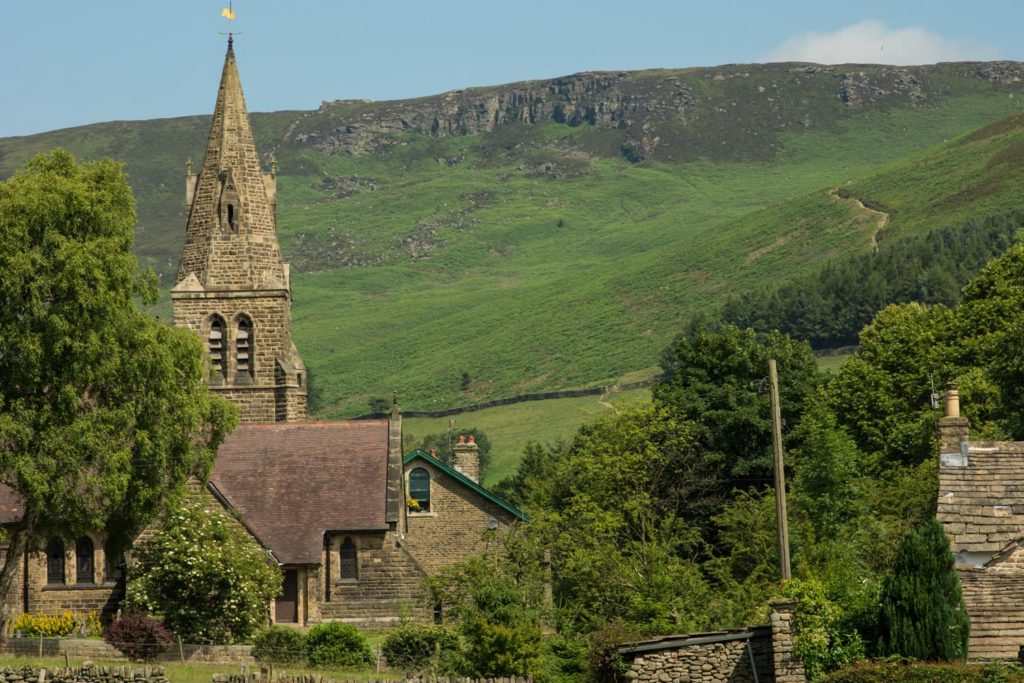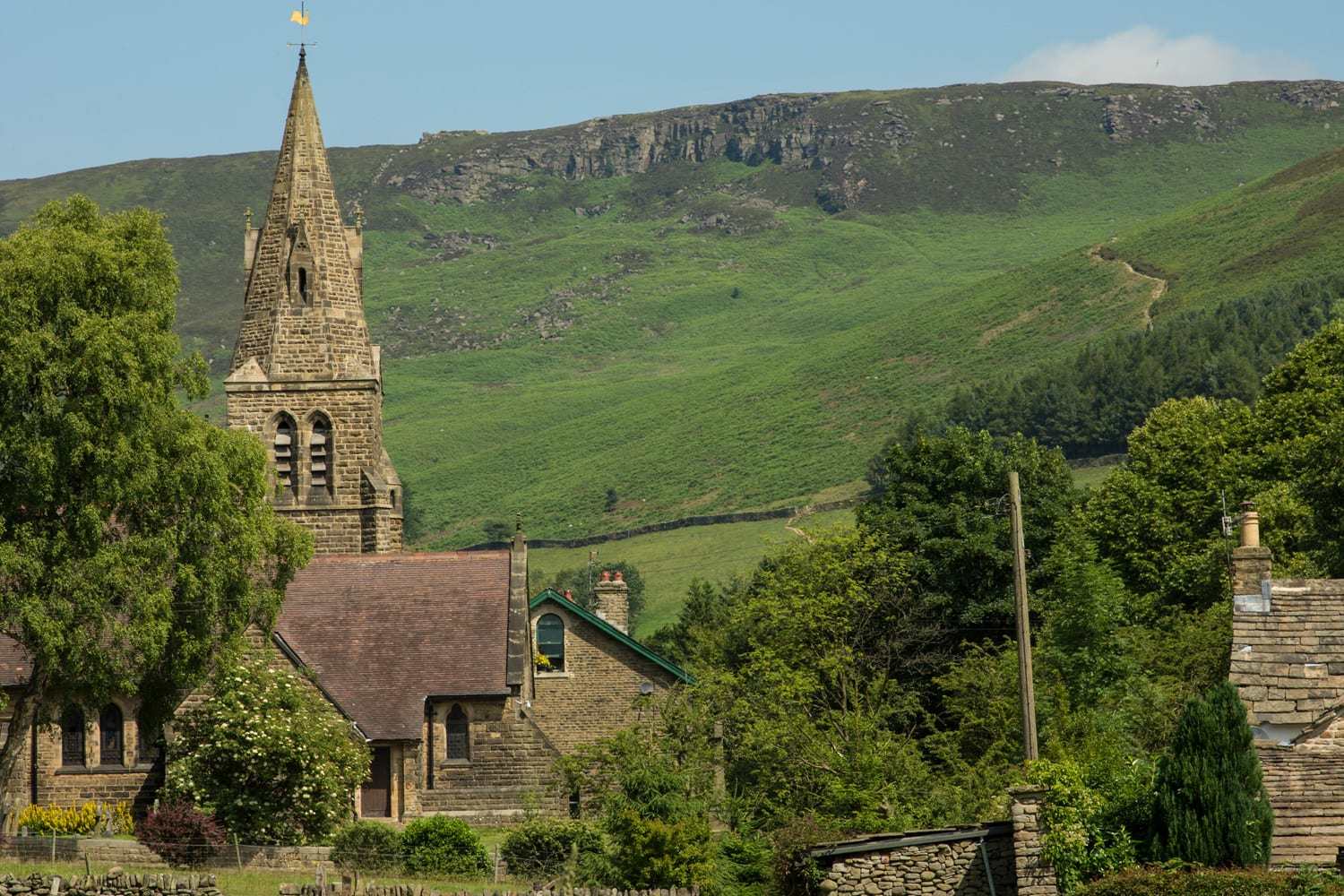 There's no question that this circular Edale walk to Mam Tor is challenging in places, but it shows off some of the most spectacular views in the Peak District and definitely repays the effort. For a true countryside day out that gives you a real taste of this part of the world, it's hard to beat.
You follow the Pennine Way out of the pretty village of Edale, with stunning views all across the Edale Valley to Mam Tor, and then follow farm trails to the lovely hamlet of Upper Booth. From Upper Booth you climb up on to Rushup Edge and along the ridge to the summit of Mam Tor, all the time with the most amazing views to both sides of you, of the Hope Valley in one direction and back across the Edale Valley in the other. From Mam Tor you walk along the iconic Great Ridge to Hollins Cross, and then down on hill trails and country lanes back to Edale. A great classic Edale Walk Circular that rewards you well.
The walk starts and ends at Edale train station (S33 7ZP, SK 12312) so it's easily accessible by public transport.
This is a walk of just over 8 miles. The terrain is rocky and very uneven in places, and there are a few steep ascents. There are stiles, squeeze stiles and narrow footbridges. There are two wonderful pubs and two great cafés in Edale at the start or end of the walk, but no other refreshment stops on the way, unless you're lucky enough to catch the local Hope Valley ice creams for sale when you reach Upper Booth Farm. There are public toilets opposite the train station in Edale.

Allow 5-6 hours to complete this walk at a moderate pace, allowing for rest stops to take in the views.
---
Derwent Edge Walk 2.5 Miles
This walk is short but challenging, with a fairly steady climb up on to Derwent Edge and then a steep descent on rocky paths. That said, the views from the top are staggering and well worth every bit of effort. From the top you are rewarded with views all the way along Ladybower Reservoir, with its iconic viaduct, and onwards to Crook Hill, Win Hill and over to the slopes of Kinder Scout.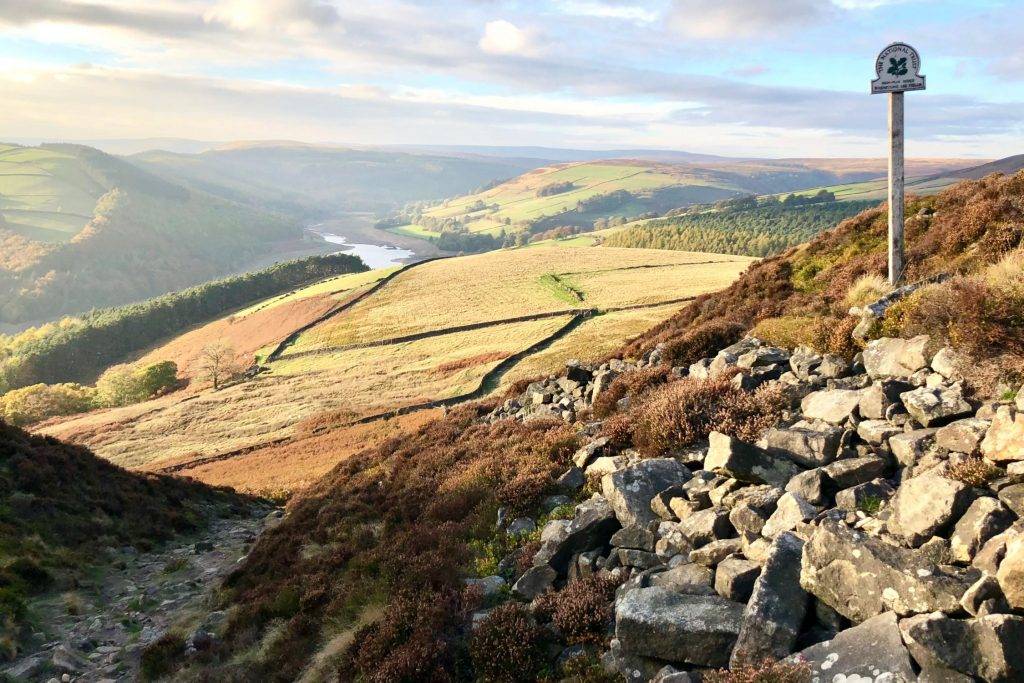 This is a circular walk of 2.5 miles. The trails are clearly marked and easy to follow. It is ideal for energetic dogs as there are no stiles and you are unlikely to encounter cows, although there are often sheep on the moors. Keep your dog under close control at all times.
Parking is free and there are numerous pubs close by for refreshments before or after the walk. Although the walk is short it is not easy, so allow at least an hour, particularly with stops to admire the scenery.