Top 5 Spooky Spots in the Peak District
The Peak District is an ancient landscape, with settlements here since the very earliest days of human civilisation. And it has more than its fair share of spooky, mysterious places – from ancient castles and stone circles, to wild woods and windswept moors, many with tales of ghostly sightings or chilling noises.
We thought we'd share our pick of the Top 5 Spooky Spots in the Peak District. Do you dare to explore them…?!
---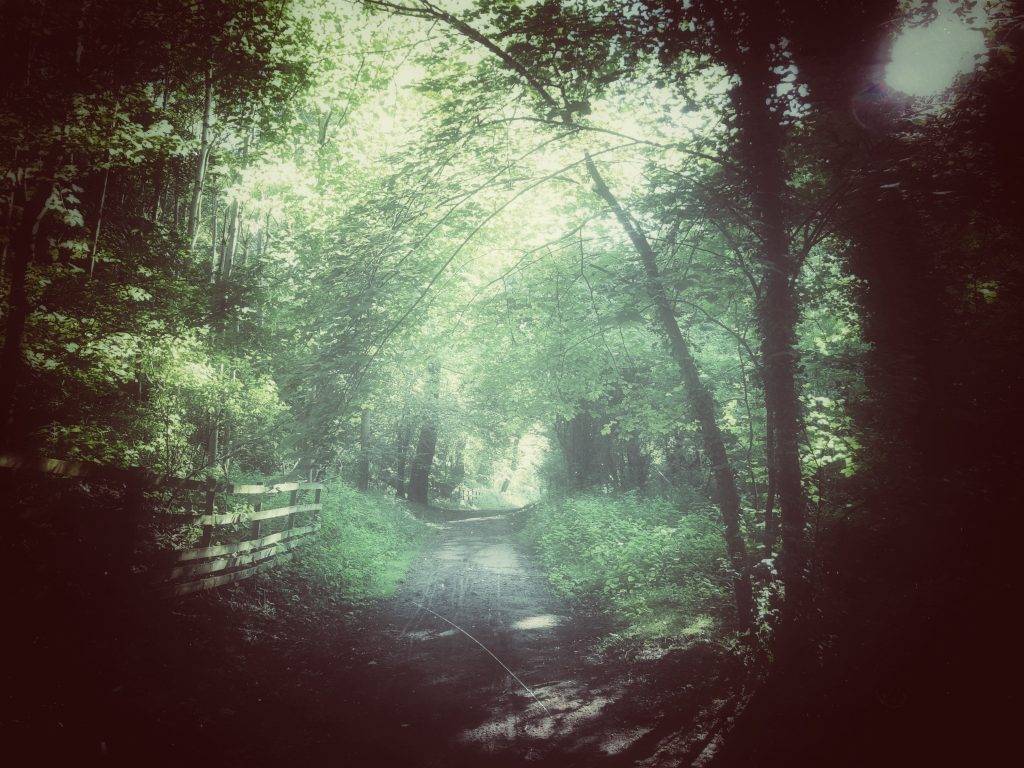 Coombs Dale, just outside Stoney Middleton, is a tranquil, peaceful place. But it hasn't always been so.
In the early 1700s Coombs Dale was notorious for being the hunting ground of a particularly feared highwayman, known as Black Harry, who would regularly prey on travellers using the ancient packhorse routes over the moors in the dark.
After many murderous years, Black Harry was eventually arrested at Wardlow Cop, and was hung and gibbeted on the Gallows Tree at nearby Wardlow Mires.
His legacy is still evident in Coombs Dale. Black Harry's Gate still stands, at the end of Black Harry Lane. An old farmhouse of the same name stood until the 1970s. And it is said that on dark nights the ghostly sounds of galloping hooves can still be heard approaching across these lonely moors.
---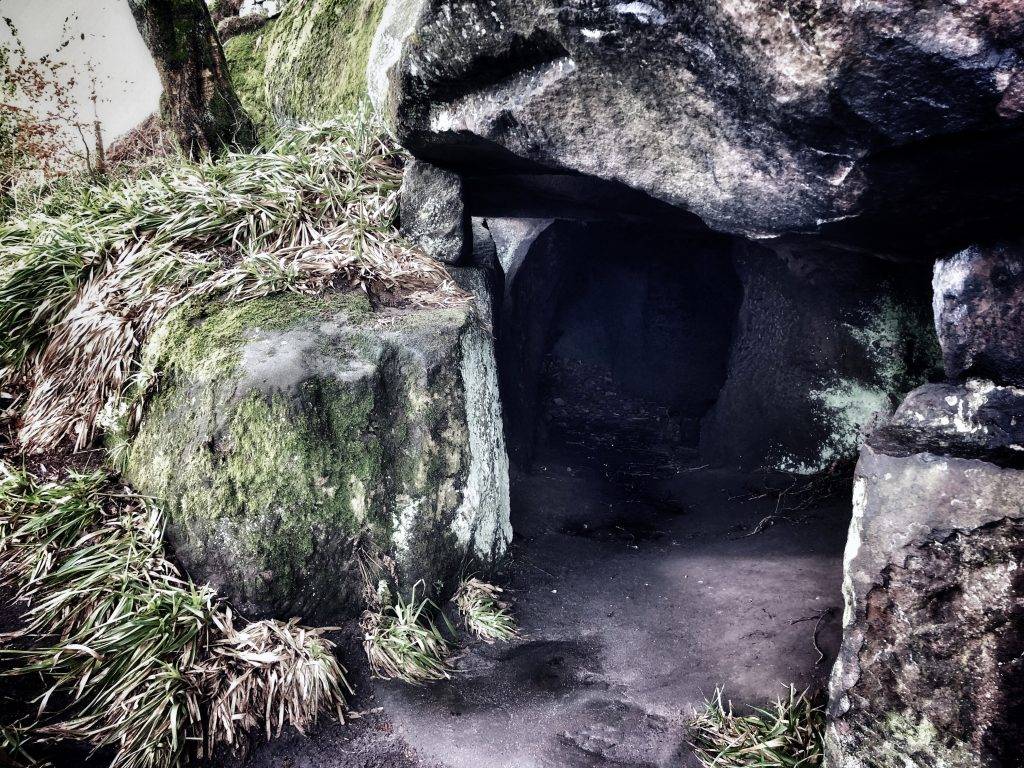 Lying just on the outskirts of the little village of Birchover is a fascinating and mysterious cave complex known as Rowtor Rocks. Rowtor Rocks consists of numerous interlinked tunnels and caverns, some natural and some man-made. Many of the rocks have been carved with symbols and pictures, including serpents, circles and cups. A series of steps, thrones and altars have also been fashioned out of the stone in a number of places.
The carvings and cave systems date from the 17th Century and are the handiwork of a very intriguing individual, the local parson of the village, Reverend Thomas Eyre (d. 1717). Despite being a man of the cloth, Thomas Eyre was a Druid who reputedly practised witchcraft, and it is believed that he used Rowtor Rocks in his Druid ceremonies.
A spooky and mysterious place at any time, only the very bravest souls would visit Rowtor Rocks at Halloween. The night of 31 October is the Druid feast of Samhain, when the dead are remembered, and it is said that restless spirits will appear to anyone who sits in Thomas Eyre's throne seat at midnight on that date.
---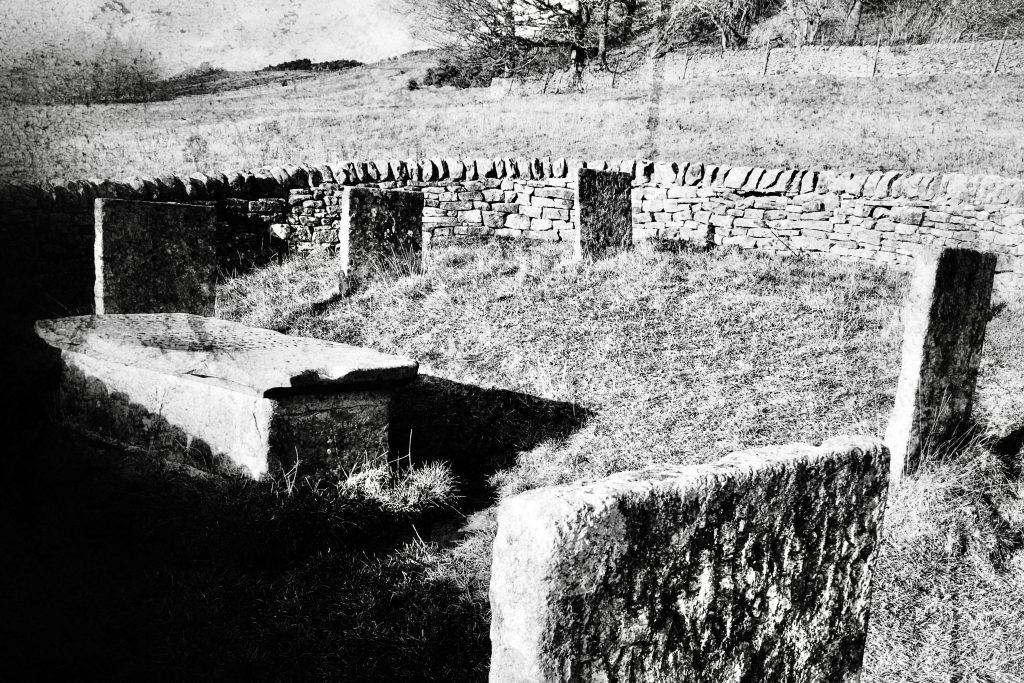 The pretty village of Eyam has a tragic history. In 1665 a local tailor took delivery of a bundle of cloth from London which turned out to be infested with fleas. Within only a few days the tailor's assistant had died, and others in the household were very sick. As more local residents took ill over the following weeks, it became clear that the little Peak District village had been struck by the deadly bubonic plague.
The community's rector, Rev William Mompesson, persuaded the villagers to quarantine themselves off from the outside world to prevent the spread of disease to neighbouring areas. This huge act of sacrifice meant that nobody entered or left Eyam for the next 14 months. During this time at least 270 of the 350 villagers died of the plague. Many markers of the plague in Eyam still stand to this day, including the Riley Graves, which mark the last resting place of six children and their father, who all died within 8 days.
It's not surprising that Eyam is rich with tales of hauntings by those who died, and there are regular ghost tours within the village. Residents and visitors have reported hearing unexplained footsteps and doors slamming mysteriously in the village inn, and of seeing a weeping child walking along the lonely road that leads to the Riley Graves.
---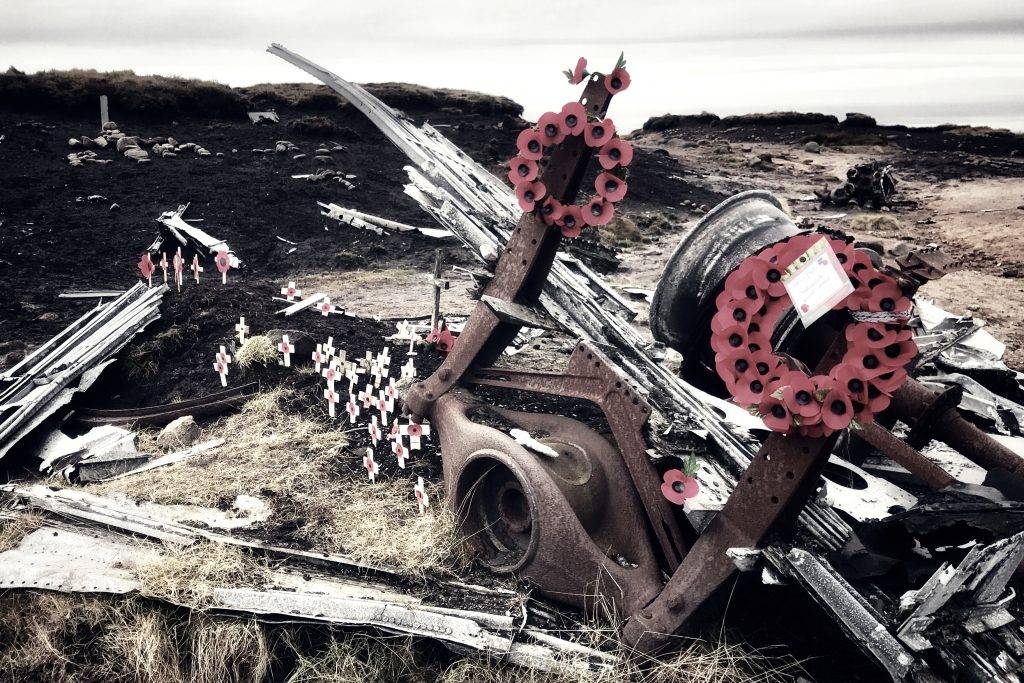 The desolate, windswept moorland of Bleaklow, just north of Kinder Scout, is always a chilling place to be, and it's not just the wind that causes shivers down the spine here.
Bleaklow is the site of a great number of plane crashes over the past century, and it's littered with the evidence of terrified crews losing their bearings in the mist and crashing into these unforgiving slopes. If you know where to look, you can still see rusting fuselage, engine parts, wing sections and even tyres amidst the peat and heather.
This particular part of the Peak District is the last resting place of at least eleven aircraft, including a B-29 Superfortress, a Lancaster bomber, a C-47 Dakota, a B-24 Liberator, a Halifax bomber and a Wellington bomber.
Of course, with each crash a great many lives were tragically lost, and inevitably this area is rife with reports of ghostly sightings. Of WWII planes that suddenly appear, silently, above the moorland, and disappear just as quickly. Or of the sound of aircraft engines straining to recover control, but with no plane to be seen.
---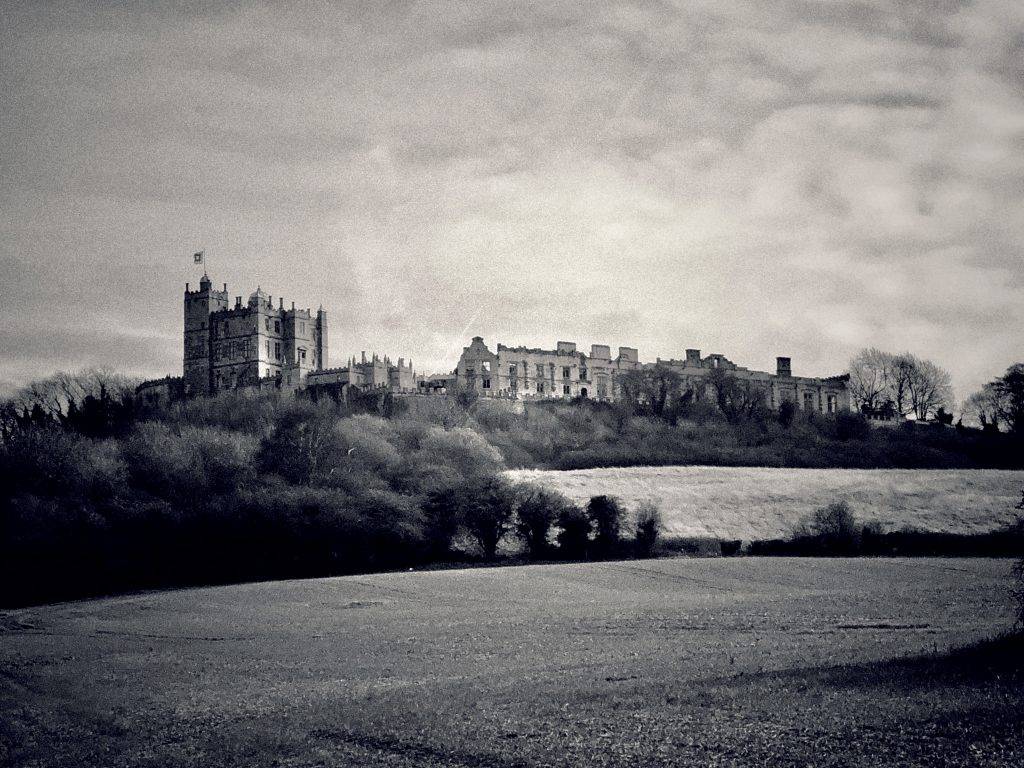 And our top Spooky Spots in the Peak District goes to Bolsover Castle!
Perched high on a ridge above the Vale of Scarsdale, on the eastern edge of the Peak District, Bolsover Castle is a place that oozes mystery. Built in the 17th Century and standing on the site of an ancient burial ground, it's no wonder that there's a chilling atmosphere here.
In fact, there have been so many mysterious sightings within these walls that English Heritage, who own the building and more than 400 other ancient properties, have voted Bolsover Castle their spookiest site in the whole country. And they have a LOT of experience of spooky sites.
Staff at Bolsover Castle receive so many reports of paranormal activity that they keep a log of all such occurrences. The most common reports include the ghost of a boy holding hands with unsuspecting visitors without them noticing, strange footsteps, slamming doors, moving orbs of light, muffled voices, and visitors feeling that they have been pushed or pinched by unseen hands.