Stanage Edge
Stanage Edge is a mighty gritstone escarpment north of the pretty village of Hathersage.  It is hugely popular with rock climbers, who travel from all over the country to take on the many challenges provided by its sheer faces.  Stanage runs for almost four miles roughly north to south, from Moscar Moor to Burbage, rising to 458 metres (1,503 feet) at High Neb, its highest point.
In many ways Stanage is the epitome of the Dark Peak. Its gritstone plateau is a wild place, often harsh and brooding, with sharp winds that will take your breath away.  But the views from the top are just as breath-taking, and in warmer months its slopes are softened by blooming purple heathers and bright bracken.  Here and there are abandoned millstones, echoing back to the industrial past of this area.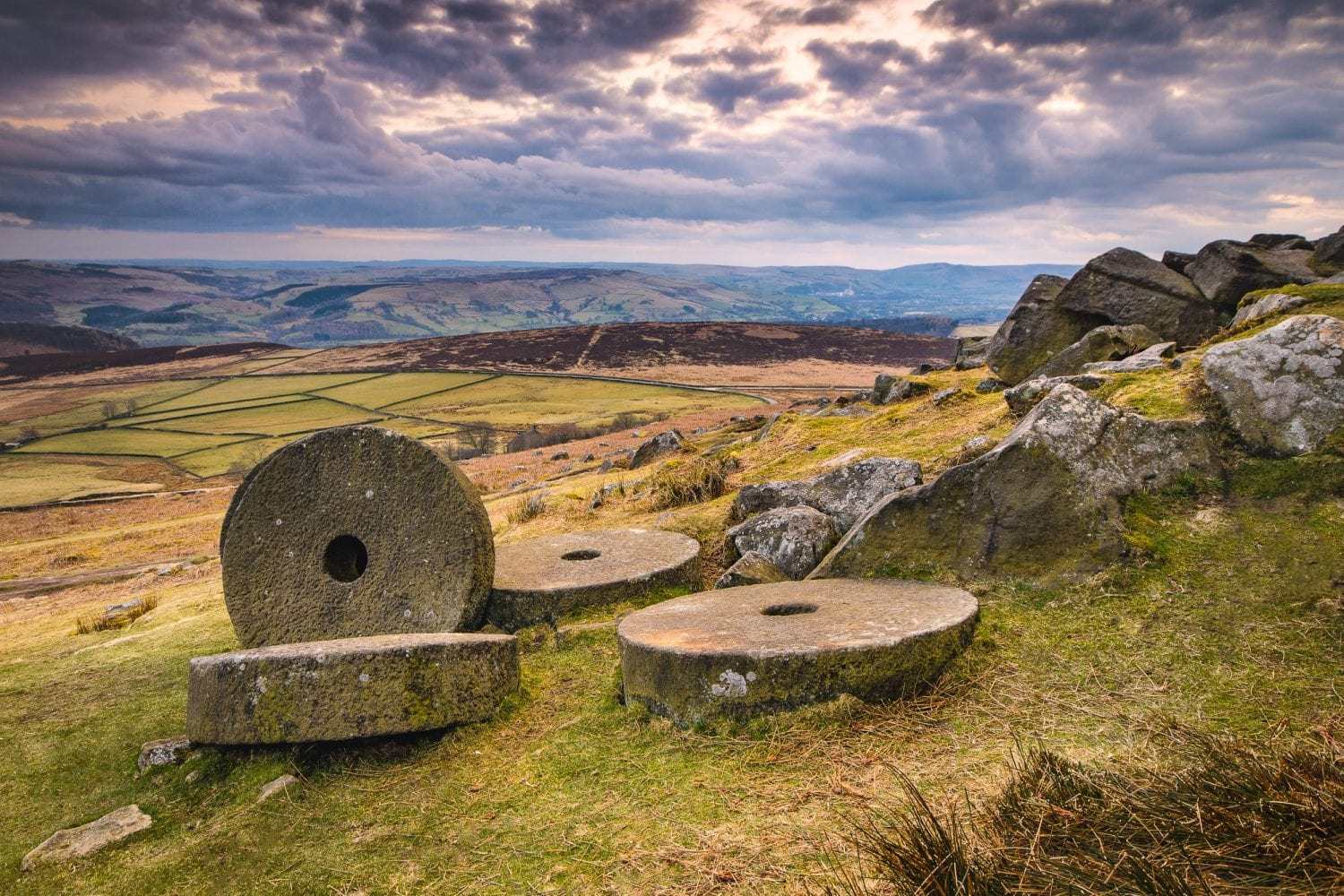 Despite its height and imposing presence, Stanage is accessible for hikers and runners, and is also a great launching point for para-gliders.  The easiest car park to find is at Hook's Car (SK 245000 83500), from where a number of well-laid paths will lead you up on to the Edge.  And the effort taken to get to the top is more than rewarded: the views are stunning.  From the south, the whole sweep of the Hope Valley is laid out before you, with Higger Tor, Carl Wark, Burbage Moor, Froggatt Edge and Curbar Edge clearly visible.  From the north, you have views over Win Hill, Lose Hill and Mam Tor, to the vast ridges of Kinder Scout.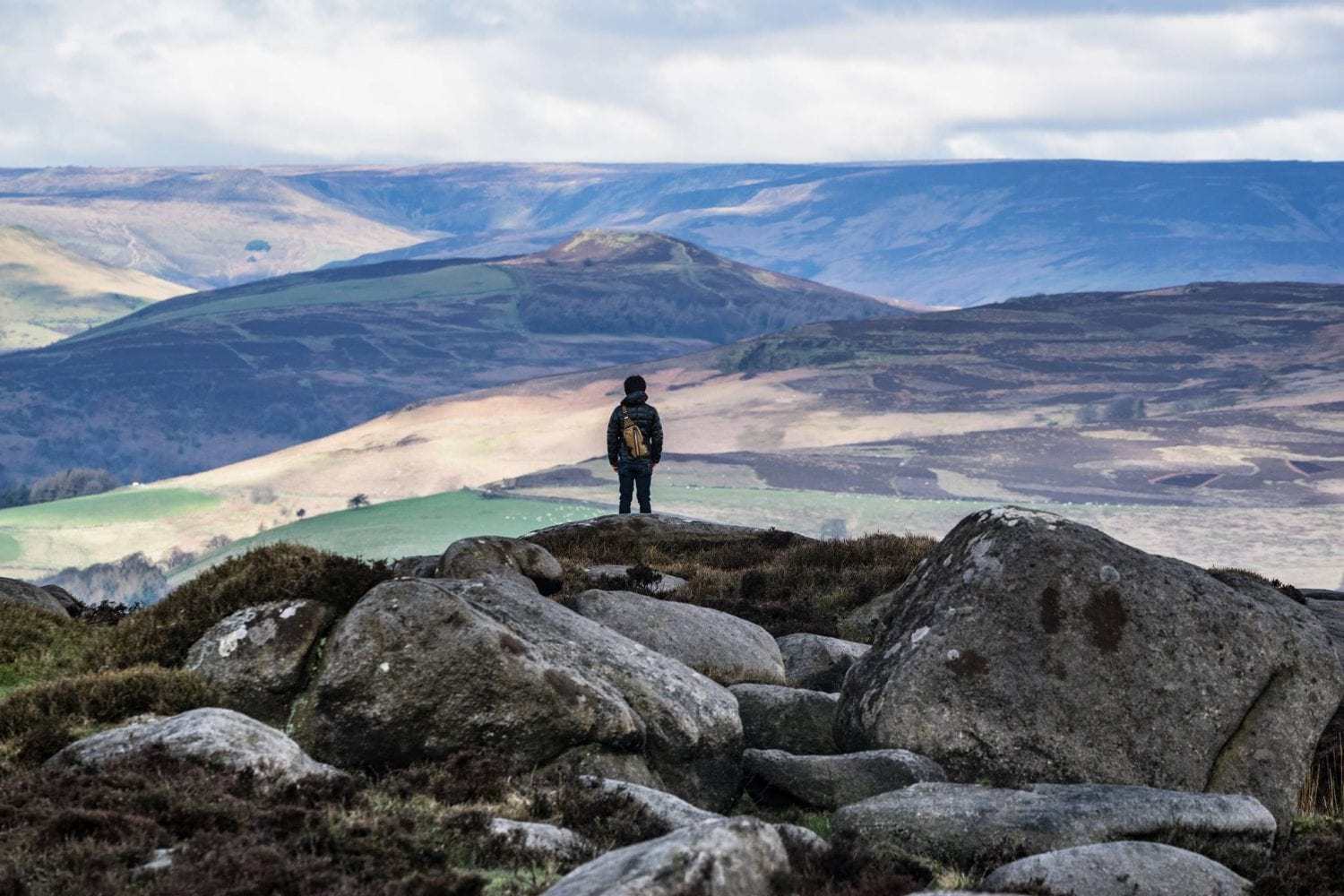 Stanage is a haven for wildlife.  The rocks are home to shy common lizards and adders, whilst in the skies you may see endangered ring ouzels, ravens, curlews or buzzards.  The expanses of heather moorland also shelter hordes of red grouse, and herds of hardy blackface sheep.
This is an ancient landscape. Evidence points to human occupation below Stanage since the Mesolithic or Middle Stone Age, and Bronze Age field systems and a burial cairn can still be seen in the area around Dennis Knoll.  The origins of its name are unambiguous: The Stone (Stane) Edge.  At one time a medieval packhorse road ran along the top of the ridge, and parts of it are still obvious across Hallam Moor towards Stanedge Pole, which marks an ancient waymarker on the road towards Sheffield.  There is also a well-known cave, known as Robin Hood's Cave (SK24403 83592), in which a bit of scrambling provides unsurpassed views from a natural balcony halfway up the gritstone edifice.
The wild beauty of Stanage has rightly featured in many films over the decades, and was the setting for Keira Knightley's brooding moment in Pride and Prejudice.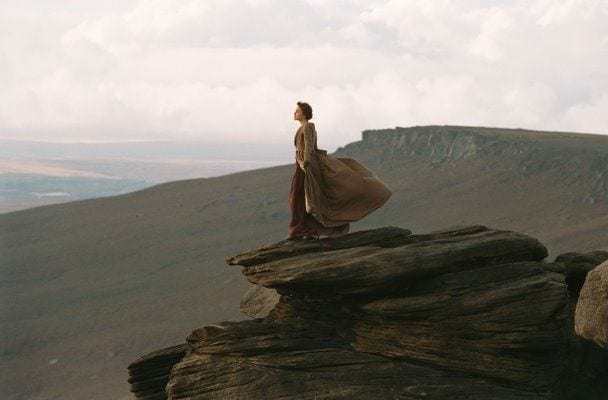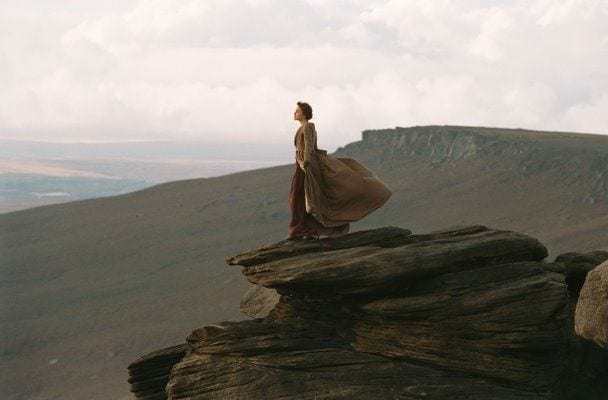 Rock climbing
Stanage Edge is a mecca for climbing enthusiasts, described by UK Climbing as the "longest, finest outcrop of the best, most unique rock Britain has to offer."  It has over 2,000 routes over its gritstone edifice, representing all styles, and offering sound rocks with little looseness or vegetation.
The first recorded routes were conquered in late Victorian times, and in the late 1940s Joe Brown ascended the world-famous Right Unconquerable, a milestone in British rock climbing history.  Since then Stanage has attracted the greatest of Britain's climbers, including Don Whillans, Johnny Dawes, John Allen, Steve Bancroft and Jerry Moffatt.  It is also home to the longest recorded rock route in the United Kingdom; the 5000m Girdle Traverse, first completed by Ron Fawcett in 1992.  Unsurprisingly, among the climbing fraternity Stanage is referred to as God's Own Rock.