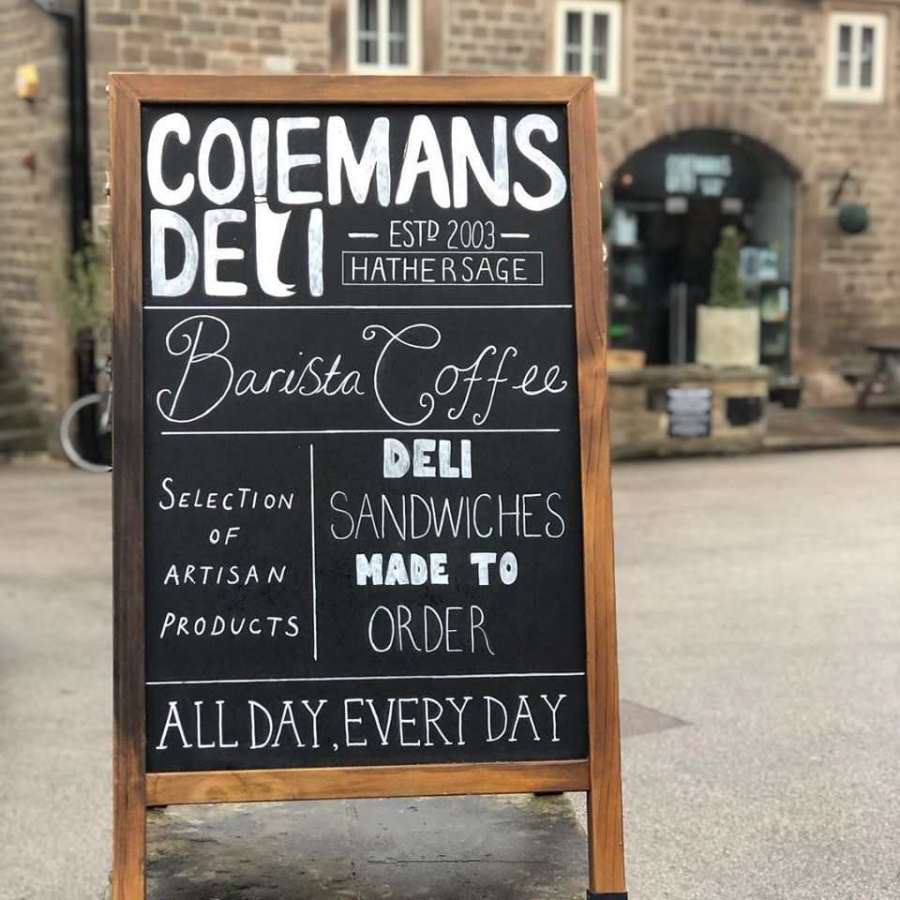 The legendary Colemans Deli is situated right in the heart of Hathersage village, surrounded by glorious Peak District countryside. This relaxed, friendly café and delicatessen is much loved by locals and visitors alike, supplying fabulous food and drinks to set you up for a day exploring in the hills … or restore you afterwards!
---
Colemans Deli Food
Colemans Deli serves delicious food and drinks all day, either outside on the sunny courtyard patio or boxed up to take away for a perfect picnic in the beautiful surrounding countryside. Make a day of it – check out the walks below that all start and end in Hathersage!
Start your day perfectly with breakfast and the finest barista coffee, whether you're looking for a light and healthy option or pure indulgence.
When you break for elevenses, enjoy hot chocolate with all the trimmings, an ice cream milkshake, or tea and a slice of home-made cake.
At lunch, select from a huge range of scrumptious salads, sandwiches, paninis and wraps. Or try one of the renowned artisan Scotch eggs (veggie and vegan versions available!) or pork pies for which Colemans Deli is famed.
And after a day out exploring in the Peak District hills you can find comfort food at its best here. Restore yourself with hot soup, indulgent specials and award-winning cakes.
The dishes at Colemans Deli are all created from the finest ingredients, sourced locally wherever possible. The menus change regularly, with an emphasis on fresh, seasonal produce.
The one thing that doesn't change is the quality of the food; the chefs at Colemans Deli have a wealth of experience and expertise – they've been keeping their discerning customers happy and returning here since 2006. Owner Jim trained and worked at Chatsworth House for 10 years, where he was senior chef.
---
The Friendliest Deli in Town!
Colemans Deli is proud to be bike-friendly and boot-friendly, and it's a well-known destination stop for cyclists and hikers discovering the beauty of the Hope Valley.
Of course, it's kid-friendly too, and you'll find a range of delicious drinks and food for your little people.
Dogs are very welcome in the lovely courtyard patio.
---
Colemans Deli: More Than a Café
Colemans Deli is way more than just a café. Here you'll find a huge selection of the most delicious delicatessen products too, with unusual treats for your kitchen store cupboards, as well as fresh artisan loaves, pastries, local cheeses and dips, olives, cooked meats, etc.
You'll also find a range of beautiful gifts here too, with products from local designers and artists.
---
Colemans Deli Location
Colemans Deli is situated in the heart of Hathersage, a pretty Peak District village in the Hope Valley. Although it's only 10 miles out of the vibrant city of Sheffield, Hathersage is a different world entirely. Surrounded on all sides by wooded hillsides and heather-clad moors, visitors come here not just for the beautiful scenery, but also the shops, pubs and restaurants … as well as the fantastic open-air swimming pool.
Hathersage is also much loved by outdoor adventurers. It's a great base for exploring Stanage Edge, a gritstone escarpment just north of the village that stretches for almost 4 miles and is famous as a location for climbing. The many moorland and fell trails that start from the edge of the village also offer wonderful routes for running, cycling and hiking. It's no wonder that Hathersage is one of the most popular villages in this area!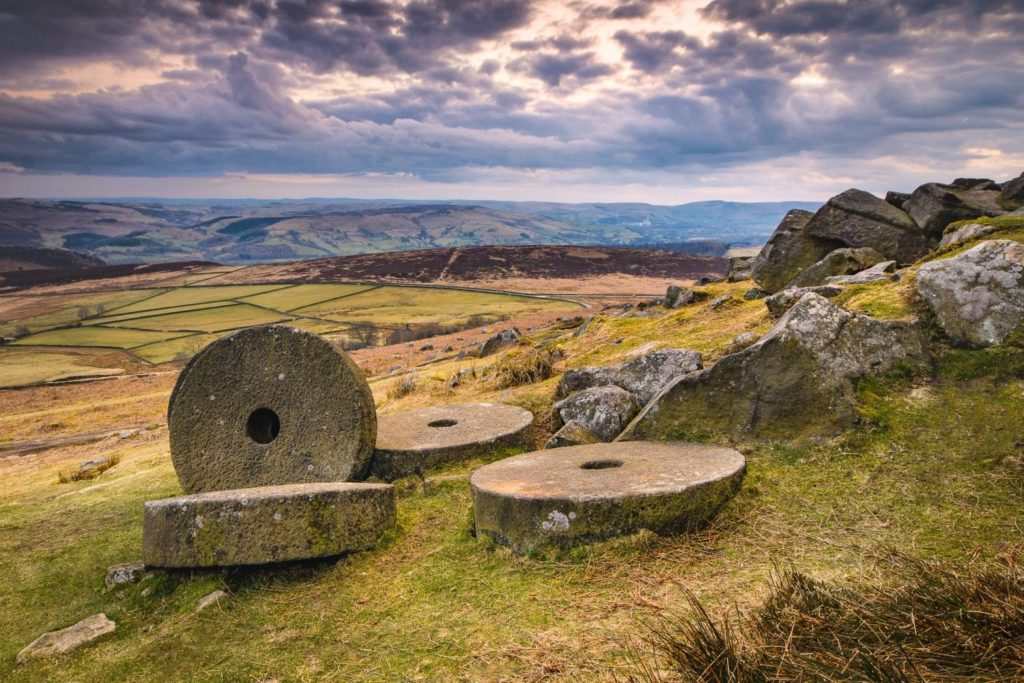 ---
Walks from Colemans Deli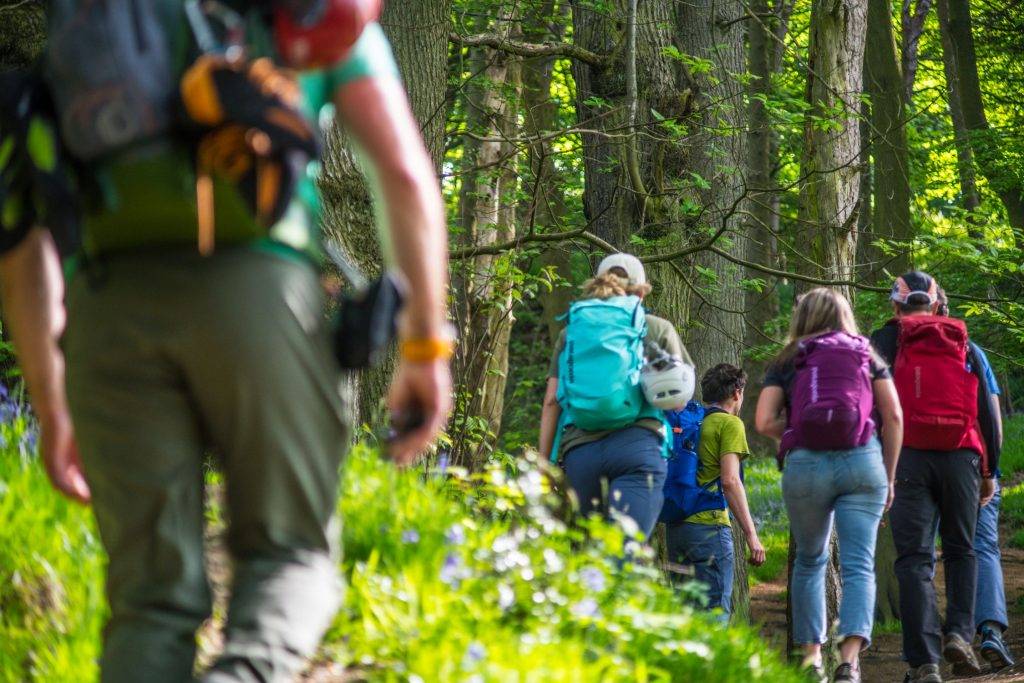 Why not take your food and drink from Colemans Deli away with you, and set off on a walk in this stunning countryside?
It takes no time at all to just escape into nearby hills or woods for peace and quiet to enjoy your meals, but if you'd like to make a day of it, try one of these lovely Let's Go Peak District walks that start and end in Hathersage.
PLEASE remember to respect the local landscape and wildlife, and take all your litter home with you!
2 miles: Let's Go Peak District Kids' Walk – Stanage Edge
This Kids' Walk is a great one for adventurous adults too, taking in the most incredible views from the top of Stanage Edge and allowing great scrambling opportunities.
2 miles: Hathersage Fairy Woods
This short, easy walk follows well-made paths up and out of the village, past the church, through beautiful beech woodlands and back down into Hathersage on country lanes.
6 miles: Hathersage and Stanage Edge
This lovely walk takes you out of the village of Hathersage and up to the gritstone heights of Stanage Edge, with awe-inspiring views. You then descend via Carhead Rocks and back into the village, along very pretty country lanes.
6 miles: Hathersage via Grindleford
A gentle walk, this route starts and ends in Hathersage, following the River Derwent to the pretty village of Grindleford, taking in beautiful countryside along the way.
8 miles : Hathersage via Longshaw
This lovely walk is a little challenging in places but the views are definitely well worth the effort. The route starts and ends in Hathersage, meanders along the River Derwent to Grindleford, onwards and upwards on to Froggatt Edge, through parts of the National Trust Longshaw Estate, over to Surprise View, and back down into Hathersage.
12 miles: Hathersage via Stanage Edge and Higger Tor
This walk takes in the dramatic gritstone heights of Stanage Edge and Higger Tor. It is not for the fainthearted, but offers some of the finest views in the Dark Peak and the stunning scenery and variety of terrain more than rewards the effort.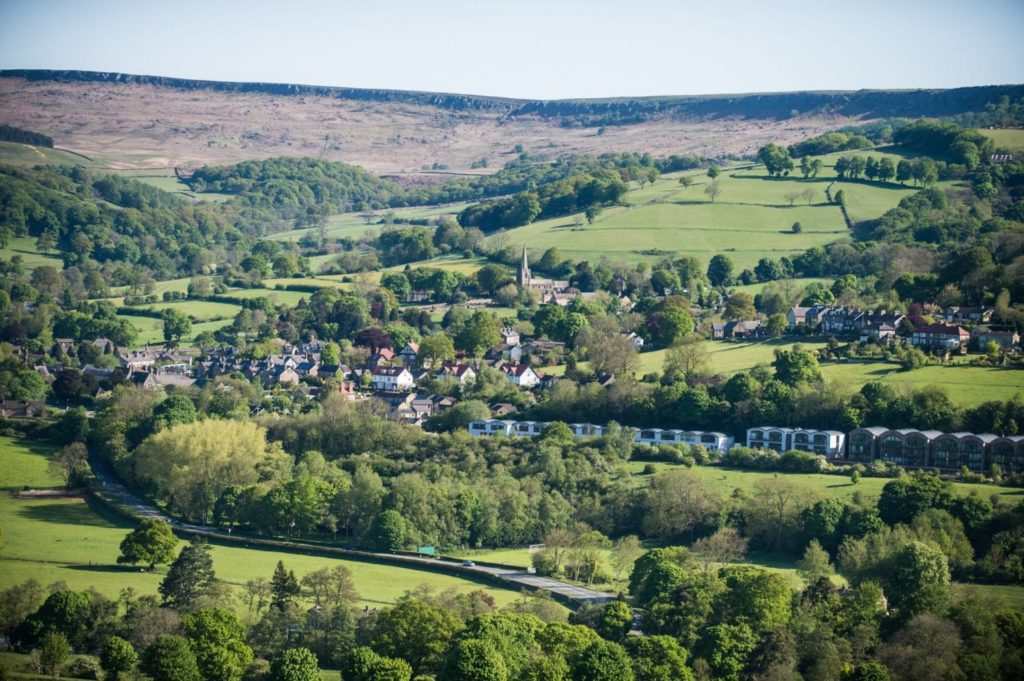 ---
Contact Colemans Deli
For further information, don't hesitate to contact the friendly team at Colemans Deli – they'll be delighted to help!
---
Colemans Deli on Facebook
[custom-facebook-feed id=ColemansDeli]